Cooking Classes for Food Services Staff
Cooking Classes for Food Services Staff
It's a wrap! The Center for Ecoliteracy has just concluded two exciting cooking schools for San Rafael City Schools and Novato Unified School District.
The goal: To help the schools further their innovative work in providing more fresh, seasonal, and locally sourced meals in ways that are both delicious and efficient. Food services staff members for each district gathered at Terra Linda High School in San Rafael for three days to engage in lively, hands-on cooking experiences, facilitated by Georgeanne Brennan and Ann Evans — Center for Ecoliteracy consultants and award-winning authors of the Center's cookbook and professional development guide, Cooking with California Food in K–12 Schools.
Evans and Brennan presented the 6-5-4 School Lunch Matrix: a new framework for menu planning based on six dishes students already know and love, five ethnic flavor profiles, and four seasons. The training is part of California Food for California Kids™, a new program of the Center for Ecoliteracy's Rethinking School Lunch initiative, which aims to enhance children's long-term health and academic achievement, support the local economy and environment, and celebrate the state's agricultural and cultural diversity.
For a closer look at the cooking schools, check out these reports from CBS TV, the Marin Independent Journal, and KTSF (in Mandarin).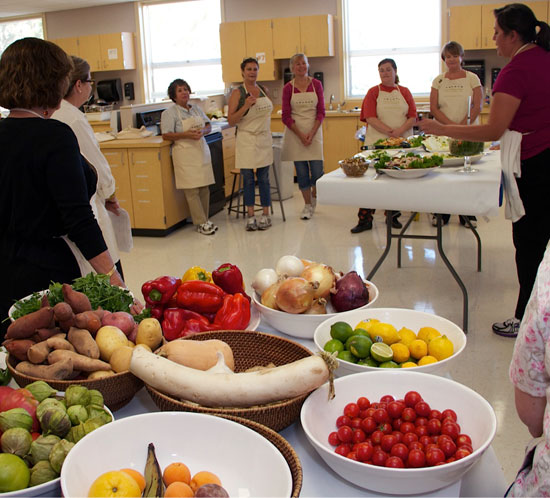 After breaking into groups, each "team" whipped up a different recipe and presented their finished dish. Freedom to experiment was encouraged, often resulting in interesting interpretations, e.g. creative garnishes. Fruits and vegetables were displayed on tables as a visual reminder of the abundance of California agriculture.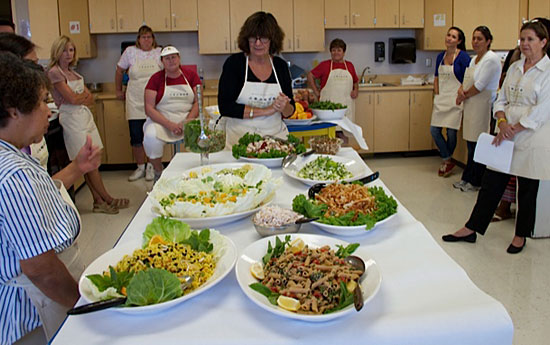 Brennan (center) and Evans (far right) survey the tasty array of salads made by participants. Containing a rich variety of greens and grains, the salads can be offered as stand-alone entrees or as elements of a salad bar.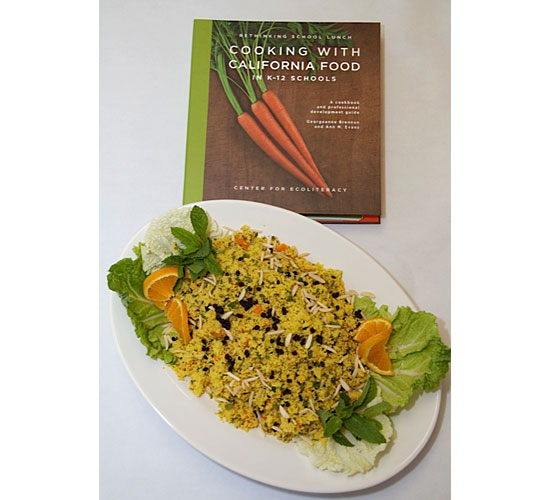 Couscous with fresh apricots and almonds, paired with the Center for Ecoliteracy's cookbook.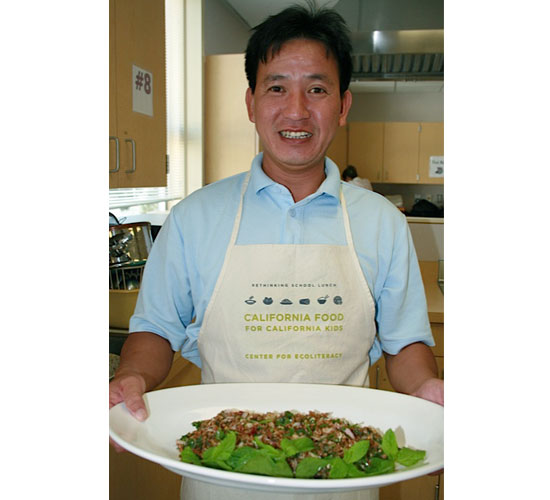 A San Rafael City Schools staff member proudly presents his wheat berry and walnut salad.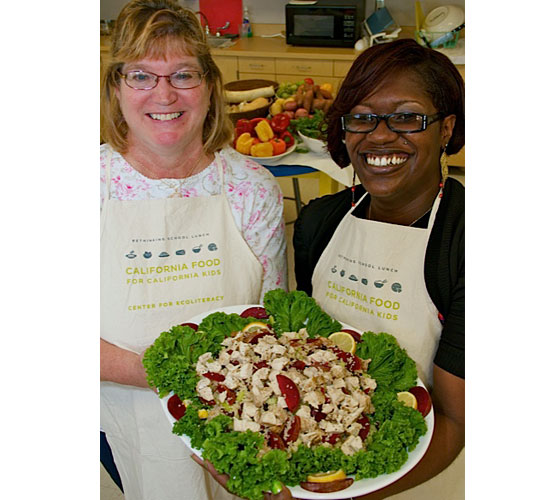 A refreshing summer salad with cracked wheat, chicken, and plums from Novato Unified.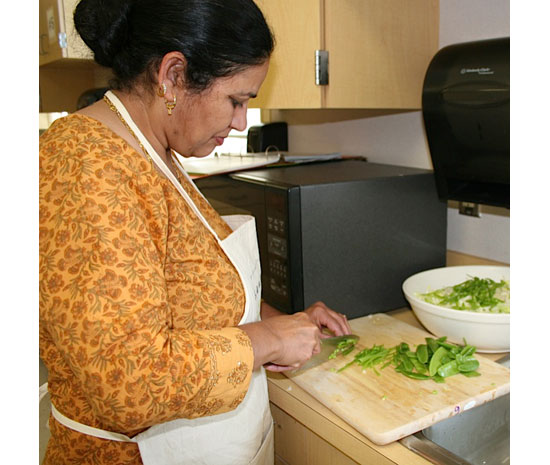 A San Rafael cooking school participant chops sugar snap peas, a favorite among students.