Pedaling Bamboo
I live in California, where bamboo is as common and difficult to control as crabgrass. But I was surprised to learn that bamboo is so tough it can survive and thrive through frigid winters in the Northeast, where one creative design studio is using it as a primary material in the development of new, low-cost, build-it-yourself bicycles.
The Bamboo Bike Studio gleans unwanted bamboo from locations around New York and New Jersey, providing itself with free material for its prototype bamboo bike frames. Bamboo is such a vigorous "weed" that Marty Odlin, Studio co-owner, says, "Most people are really happy for us to take it."
Odlin and others at the Bamboo Bike Studio teach classes on how to make your own bamboo bike, and use profits from their business to bring bamboo bike technology to developing countries, beginning with Ghana, Kenya, and Ecuador. Their hope is to open small-scale bamboo bike factories that provide transportation and jobs.
Although the bikes include manufactured wheels, tires, pedals, chains, and seats, using bamboo for the frame cuts the cost of a bike about in half.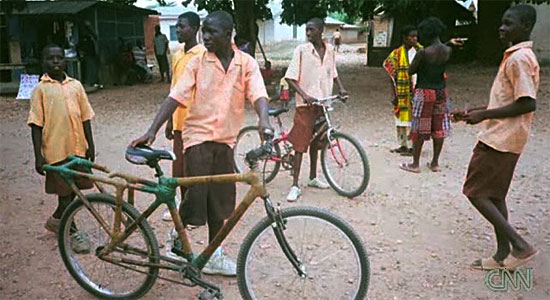 Odlin is inspired by the opportunities that "self-propulsion" brings to the communities he works with. For example, consider the distance a bicyclist can cover compared to walking over the same amount of time. "If you actually calculate it out", says Odline, "You get roughly 27 times the area you have access to, 27 times the economic opportunity, 27 times the health care opportunities, 27 times the educational opportunities."
"We're giving access to cheap bicycles that isn't dependent on anybody else. It's just dependent on the people who make the bikes. That will increase access to bicycles and increase a whole lot of people's standard of living."
And what if you just want a great bike for yourself? A bamboo bike could put you in the forefront of design. From an aesthetic, engineering, and sustainability perspective, the bikes have been deemed significant enough to be featured in a recent design workshop at the Cooper-Hewitt National Design Museum.
For more information on Bamboo Bike Studio, watch this video from CNN.
What would Socrates do?
Inquiry for the classroom using Socratic dialogues
• What do you think about Marty Odlin's claim that a bicycle can give you acces to 27 times as much area as walking for the same amount of time? How might you do your own calculations to compare walking to cycling?
• The Bamboo Bike Project uses a material – bamboo – that is sometimes regarded as a weed or waste product. Are there other materials you know of that are not used to their fullest potential right now? What materials might you consider using and how might you use them to make new or familiar things? What are some of the advantages or disadvantages that these materials present? For example, are they cheaper or more expensive than conventional materials, more or less durable, more difficult or easier to obtain, more difficult or easier to work with, etc.?