Thou Shalt Not Spork!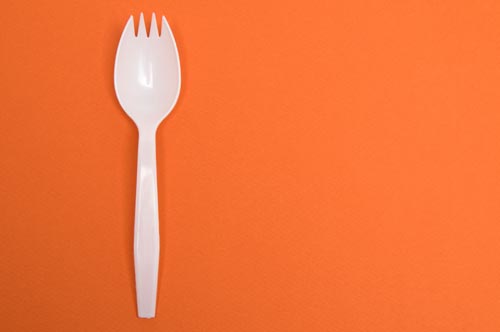 A standout for me at last year's Bioneers Conference was a panel featuring Michael Pollan and some young students who are working to improve food in their local schools, including Kids Rethink New Orleans Schools <www.therethinkers.com> Here's how they describe themselves:
We are a group of students in New Orleans who want to rethink and rebuild our schools after Hurricane Katrina.… In mid-2006, [a group of community organizers, artists, architects, media experts and educators] brought twenty middle school students (us) together for our first summer school. Every kid was recovering from a hard year that included Hurricane Katrina, losing our houses, leaving the city, and going to new schools away from home. The time away (six months for some of us, a year for others) was scary but eye-opening. For the first time most of us saw school bathrooms with toilet paper and soap; libraries with books and hallways with lockers. It made us realize what good schools actually look like. We just started rethinking schools back here in New Orleans.
Part of their rethinking took form in 2008, when students worked with chefs, farmers, architects, artists, and the New Orleans Food and Farm network to draft Twelve Recommendations for Public School Cafeterias. <recommendations-2008.pdf> It would be difficult to find a better example of proposed school lunch reform anywhere, although their first recommendation may come as a surprise:

In case you don't know, a spork is a 19th-century cutlery design that combines a spoon and a fork into a single eating utensil. Critics of the spork complain that it doesn't function well as a fork because its tines are too short to pierce and hold food, and it fails as a spoon because its bowl is too shallow and leaky to hold liquids. Seen as an economical and efficient option for prisoners and combat personnel (and cute hungry school children?), the spork later found its way into fast food establishments. There is even a restaurant in San Francisco called Spork <www.sporksf.com>, its name inspired by the previous tenant, a Kentucky Fried Chicken franchise.
At Bioneers, the Rethinkers' description of their attempts to eat gumbo with the feeble spork was both poignant and hilarious. The spork's failure to fulfill its most basic function – getting food into their mouths – affronted their dignity and earned it a place at the top of their list of recommended reforms.
I called Jane Wholey, a Rethink founder, who told me the Recovery School District, responsible for about 50 percent of New Orleans's public schools, was very supportive of the students' recommendations and agreed to adopt 11 out of the 12. Which recommendation didn't pass? The students' request to get rid of Styrofoam lunch trays. Jane explained that Styrofoam trays are used because many school kitchens were destroyed by Katrina, and few of the newly operational school kitchens meet code or have dishwashers. There is simply no way at the moment to wash reusable trays. Students are pressing for a biodegradable alternative, and request a move to reusable trays when dishwashers are available.
And what became of the spork? "One piece of very good news is that [food service provider] Sodexo is anxious to please," said Wholey. "On their own they stopped buying sporks." Sodexo now provides knives, forks, and spoons made of plastic. "On the dignity issue, we won. The ecological issue is our next horizon," said Wholey.
See the Rethinkers in action:
What would Socrates do?
Inquiry for the classroom using Socratic dialogues
Kids Rethink New Orleans Schools places a very high value on personal dignity. Their central question was this: What would a school look like that truly respects its students? How would you define dignity? In what circumstances do you find your dignity to be challenged? When and why do you sometimes accept feelings of indignation and at other times protest like the Rethink kids did?
The spork was designed to be very efficient because it combines the functions of a spoon and a fork in one utensil, thereby saving on materials, clean-up, and disposal. Some people think the spork is not very usable, however, because it doesn't work as well as a spoon and fork used separately. What do you think? Which do you think is more important: usability or efficiency? Can you imagine or find in the real world examples of designs that meet usability and efficiency goals equally well?