When Kids Get Good School Food — for a Day
When Kids Get Good School Food — for a Day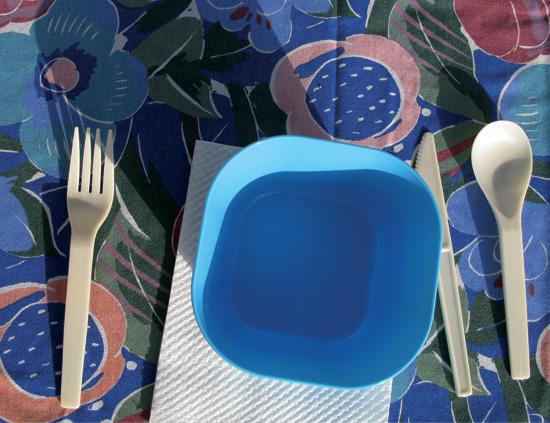 Shortly after lunch, three girls approached garden instructor Sarah Stephens on the playground of Cleveland Elementary School, a public school in Oakland, where the majority of students are eligible for free and reduced-price lunch.
"I thought you said the food was going to be good today," one said.
"It was horrible," another said. "I never want to have it again."
"Mine was good," said a third. "I had vegetarian chili."
This was National School Lunch Week — an event recognized by Oakland public schools on October 14, 2010 with a serving of one "Ideal Meal."
In the school's all-purpose room, tables were set family-style, with tablecloths and flowers. Instead of the usual, somewhat less-than-appealing lunch fare, students were offered grass-fed hotdogs or vegetarian chili, an organic pear, and water. And under the supervision of Nutrition Services Director Jennifer LeBarre, every effort was made to buy food locally.
There was just one hitch: More kids came to lunch — and ate more — than usual, and the staff ran out of the good stuff before the lunch period ended. So for those students toward the end of the line, including the girls who lodged their complaints on the playground, the previous day's leftover pizza proved a bit less than ideal.
But the young girl who enjoyed the vegetarian chili only had one question: "Will we have it again tomorrow?"
Learning that the answer was "no," that the good stuff was just for one day, clearly disappointed her. But that, too, was part of the point: She'd had a taste of a better alternative, and now she knew what she was missing.
School Lunch Week, Stephens explained to the students, is a time when schools try to tell the government that they need more money to provide healthy lunches every day of the year.
That is now on hold at the national level, as Congress recently stalled on reauthorization of the Child Nutrition Act, which could have moderately increased funding. But in Oakland, the story is unfolding rather more positively.
The San Francisco-based TomKat Charitable Trust and the S. D. Bechtel, Jr. Foundation recently awarded grants totaling $200,000 for the Center for Ecoliteracy to work with the Oakland Unified School District in 2010–2011 and determine how its 40,000 daily meals can be made healthy and nutritious.
And Oakland is ripe for this kind of change — because all the key players are also providing leadership from within, says Zenobia Barlow, cofounder and executive director of the Center for Ecoliteracy.
Superintendent Tony Smith, for example, has declared that lunch reform is fundamental to school reform. Nutrition Services Director LeBarre is determined to create the best meal program in California. And parents like Melissa Newel, cofounder of the Oakland School Food Alliance, are rallying community support.
And now the kick-start funding, coupled with the Center's decade of experience in school lunch reform, will make it possible to address issues ranging from new facility construction to staff professional development.
The Center for Ecoliteracy also recently documented its experience and advice for other reformers in a new and updated Rethinking School Lunch Guide, which leads educators and community members through ten pathways that make the complex business of school lunch reform a reality.