CA School Districts are Using Kitchen Infrastructure and Training Funds to Serve More Fresh and Local School Meals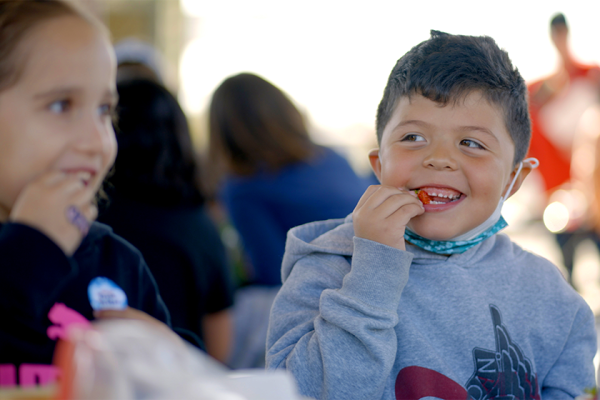 Advocate for KIT Funds: Join the School Meals for All Coalition
We were proud to see California continuing to lead the nation by fully funding free School Meals for All and a $0.96 state meal reimbursement in the Governor's May Revise of the state budget proposal. We applaud Governor Newsom for prioritizing the $300 million in additional investments needed due to the increased demand for free school meals. However, the Kitchen Infrastructure and Training (KIT) program was not included in the Governor's May Revise. The Senate budget proposal funded the KIT program at $100 million. Sign on now to support funding for the KIT program.
—
California's Kitchen Infrastructure and Training (KIT) program provides school districts with noncompetitive funds to upgrade deteriorating school kitchens, purchase equipment, and train staff. KIT funding is essential to the successful implementation of School Meals for All, increasing freshly-prepared school meals, purchasing from California farmers, and supporting the school nutrition workforce.
A UC Berkeley Cities and Schools report (Vincent et. al, 2020) found that California schools need a total of $5.81B to be scratch-cooking ready. The KIT program started in the 2021 state budget with $150M and continued in 2022 with $600M. By April 2023, $585M of the 2022 KIT funds had been allocated to school districts. ​
The Center for Ecoliteracy conducted a survey of 16 school nutrition directors to learn how they are using KIT funds in their school districts. Combined, these districts serve 128,060 students in 227 schools. Here's what they had to say:
81% will use KIT funds to serve more freshly-prepared school meals
The KIT funding is intended to help school districts increase the amount of freshly-prepared meals they serve, which studies show students are more likely to consume. A portion of the KIT funds are dedicated to school districts that commit to at least 40% freshly-prepared meals onsite by the 2023-24 school year. "Better kitchens and equipment provide us the capability to do scratch and speed scratch like the old days." —Brian Chiarito, Madera Unified School District
81% will use KIT funds for improved staff development and training
Well-trained school nutrition professionals can make all the difference in the successful implementation of School Meals for All with more freshly-prepared school meals. Staff training complements the purchases of new equipment and an effective roll-out of new menu items and culinary techniques. For instance, one director commented, "The Culinary Institute of America in Napa has a training for food service employees this June. I am able to send three staff members and hope to send more next year." —Anonymous
75% will use KIT funds to successfully implement School Meals for All
School Meals for All has led to increased participation in school meals, with statewide participation returning to 99% of pre-pandemic levels, despite declining enrollments. This increased participation is unevenly distributed, with some schools seeing much higher participation increases than others. To meet the increased demand for school meals, many school districts must purchase new equipment. For instance, one director commented that the KIT funding would provide "increased capacity to store food to accommodate increased participation." —Anonymous
75% will use KIT funds to purchase more food from California farmers
As a growing $2.4B dollar industry in California, school food has enormous potential to support California's farmers and local economies. Many school nutrition directors use the KIT funding to purchase the equipment needed to process and transport food directly from local farms. "Our program intentionally connects with local farmers and food producers and is able to use their incredible products." —Erin Primer, San Luis Coastal Unified School District
May 22 2023
show