Understanding Food and Climate Change: An Interactive Guide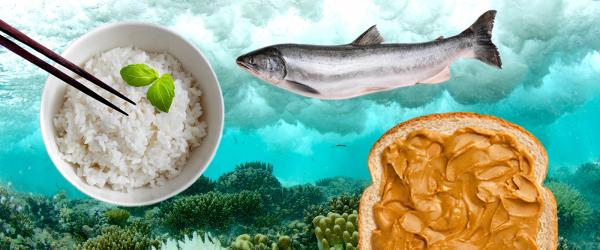 Understanding Food and Climate Change: An Interactive Guide uses video, photography, text, and interactive experiences to help educators, students, and advocates learn how food and climate systems interact and how personal choices can make a difference. Ideal for grades 6–12 and general audiences, with connections to Next Generation Science Standards and the National Curriculum Standards for Social Studies themes, the guide offers activities for student research and resources for further investigation. The guide is also designed to support self-guided and independent study, and is a boon for advocates seeking hopeful strategies and creative responses.
Available as a free iBook for Mac and iPad users.

A web version is available for all computers and tablets:
Understanding Food and Climate Change: An Interactive Guide
What's Inside: A Sample page

What people are saying
"The food and wellness movement and the movement to foster awareness and understanding of climate change are among the most powerful social movements in today's global civil society. And yet, there is hardly any connection between the two, either conceptually or organizationally, even though a thorough understanding of the multiple links between agriculture and climate change seems critical for the survival and well-being of humanity. This interactive guide promotes such understanding in a lively, multicultural way. It will be an invaluable tool for food and climate educators and change advocates, and I highly recommend it."
Fritjof Capra, PhD
Physicist, Systems Theorist, and Author
"I have spent the last year educating myself about the critical and complex connections between agriculture and climate change. How I wish I had started with this guide!"
Whitney Cohen
Education Director, Life Lab and Lecturer, UC Santa Cruz
"At a time when the science of climate change is being questioned by policy makers in the halls of government, it is essential we educate students about the challenges now facing the natural world and humanity. The Center for Ecoliteracy has developed an extraordinary new online tool—a creative and interactive guide—that will help teachers and organizers engage students in developing their understanding of the relationship of today's global food system and its contribution to climate change."
Matthew Derr
President and Faculty, Sterling College
"Understanding Food and Climate Change is a much-needed resource for educators everywhere that brings the food system "home" in a lucid and informed publication. The food sector, which includes farming, silvopasture, agroforestry, grazing, food waste, and dietary choices—is one of the two largest contributors to global warming, the other being transport. As a solution, it has the potential to be the largest sector in terms of its contribution. It can not only reduce and stop emissions, but it can also bring carbon back home through regenerative land use practices."
Paul Hawken
Editor of Drawdown: The Most Comprehensive Plan Ever Proposed to Reverse Global Warming
"Climate change and its relationship to food and agriculture are among the most critical issues we face today. Yet, these connections can seem daunting topics to teach and inform the general public about, much less get them engaged in addressing. Well, no more. Educators and advocacy groups have reason to rejoice as the Center for Ecoliteracy now offers an accessible, engaging, and comprehensive interactive online guide called Understanding Food and Climate Change. It more than lives up to its title. No classroom or environmental group should be without it."
Andrew Kimbrell
Executive Director, Center for Food Safety
"Engaging. Smart. Comprehensive. Understanding Food and Climate Change is what our nation's youth need to face the challenges of our changing planet."
Pam Koch, EdD, RD
Executive Director, Laurie M. Tisch Center for Food, Education & Policy, Teachers College, Columbia University
"Agriculture has a huge impact on the environment—greenhouse gases as well as pollution of air, water, and soil. The Center for Ecoliteracy's Understanding Food and Climate Change is essential for finding out how this happens and what we can do about it."
Marion Nestle, PhD, MPH
Paulette Goddard Professor of Nutrition, Food Studies, and Public Health, emerita, New York University
"To foster ecological intelligence, educators help students experience and understand how they are connected to the natural world. The Center for Ecoliteracy's new suite of resources, Understanding Food and Climate Change, provides helpful tools for visualizing and deepening knowledge of these connections, and a hopeful frame for taking action."
David Orr
Paul Sears Distinguished Professor Emeritus and Counselor to the President, Oberlin College
"The Center for Ecoliteracy's Understanding Food and Climate Change is innovative, engaging, and thought-provoking. It provides a very comprehensive picture of the many ways our food system is influencing and influenced by climate change, exploring complex concepts in practical terms. I highly recommend the Guide to any educator teaching climate change. Beyond the classroom, the messages presented by these attractively packaged resources are important for all citizens in our global society to think about and I would nominate them to be added to life's required reading list."
Sarah Pounders
Senior Education Specialist, KidsGardening
"We have an obligation to lead by example as well as give our best effort toward restoring the health of our planet for the next generations who inherit the earth. That's why I enthusiastically support the work of the Center of Ecoliteracy, whose new suite of resources, Understanding Food and Climate Change, provides insight into how we, as stewards of our environment, young and old, can align our actions with our values."
Kat Taylor
CEO, Beneficial State Bank
Board Chair, TomKat Ranch Educational Foundation
"Teaching children how climate change impacts the food we grow and eat has never been more important. The Center for Ecoliteracy has done a wonderful job of synthesizing many critical issues into this highly useable teaching tool, and they have made it available for free! I hope Understanding Food and Climate Change will be used in classrooms across the country. A sustainable future for the planet depends upon the edible and environmental education of every child."
Alice Waters
Founder, The Edible Schoolyard Project
About the Suite
This publication is part of a suite of resources from the Center for Ecoliteracy that explore the connections between food systems and climate change. Learn about our companion resource.
April 18 2018
hide