Greening a K-12 Curriculum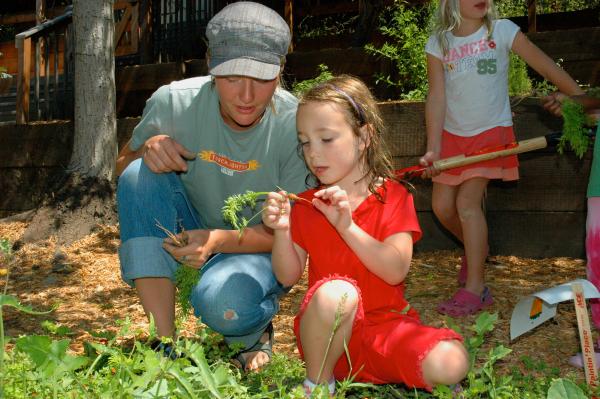 Seemingly small things can lead to big changes in a school, when the moment is right and the community is willing.
But changes that ultimately cut across all disciplines and grades are truly remarkable, especially when they take place in an institution founded back when Grover Cleveland was president and California had only recently become the 31st state in the union. Still, that is what happened at Head-Royce School, a K-12 independent school in Oakland, California that has committed itself to greening its entire curriculum.
The story begins one spring day in 2006 when Alejo Kraus-Polk, a 15-year-old sophomore, walked into head of school Paul Chapman's office on a mission: He wanted to invite the executive director of the Berkeley-based Green Schools Initiative to Head-Royce because he wanted to see his school go green. And he was not alone. Shortly after, junior Yaeir Heber would be elected student council president on a platform that emphasized environmental action.
Chapman, who saw Kraus-Polk as "nature smart" and part of a growing students' crusade for the environment, approved the request and attended the talk. Having recently seen Al Gore's An Inconvenient Truth, he was immediately hooked.
"That period of time was like a moment of spontaneous combustion," recalls Chapman, who has led Head-Royce for 25 years. "For me, it was like revisiting 1968." It became clear that today's environmental issues are so momentous, urgent, and central to education that they present an opportunity to take a stand on the right side of history. At this point of instability, in other words, Chapman provided the leadership that allowed new structures, new forms of behavior, and a new order to emerge in the ways in which Head-Royce related to the environment.
Asking himself what Head-Royce could do to become a model green school, Chapman decided the most important first step was to signal commitment from the top down. So he went to the board and persuaded them to approve a green mission comprising four goals:
Create a healthy environment.
Use resources in a sustainable way.
Develop an educational program.
Pursue a nutritional health program
"Putting this in place before we got started was critical," says Crystal Land, assistant head of school and academic dean. "'Green' didn't just mean composting and recycling, or even greening the building. But this [statement of goals] opened things up to discussion of the need for a green curriculum and role modeling, and what all of this means in the classroom."
It also led to an explosion of activities — initiated by students, faculty, staff, and administrators. Among them, Head-Royce:
Formed a green council of 12 voting members, most of them students;
Changed the school's mission statement to add a "love of nature" to the qualities that educators seek to develop in their students;
Installed more than 400 solar panels;
Turned a steep hill into a lush garden of native plants, fruit trees, and other edibles to be used as an outdoor classroom;
Conducted a student-run trash audit and cut its overall landfill output in half; and
Held school assemblies and an all-day conference on sustainability for Head-Royce's high school students.
Chapman and Land also encouraged faculty members to find personal connections to the green school mission. Some teachers initiated waste-free lunches; others took field trips to a waste management center that proved profoundly eye-opening, revealing just how much waste the community produces every day; still others got deeply engaged in the new garden. One particularly important opportunity revolved around the creation of a book group. Over a summer break, Land asked teachers to read one of four books (How Much is Enough? by Alan Durning; Animal, Vegetable, Miracle by Barbara Kingsolver; Field Notes from a Catastrophe by Elizabeth Kolbert; or The Omnivore's Dilemma by Michael Pollan) and then meet to discuss them according to their interests.
"This allowed teachers to connect with one of the four tenets pretty meaningfully — to come to a place of seeing, 'Oh, this relates to my life,'" says Land. "It's not just what we are doing as a school but also as individuals. There is great power in that."
The green graduate
Having come this far in a relatively short period of time, some schools would be more than willing to stop and declare themselves a model green school. But at Head-Royce, being a green school also meant greening the curriculum and considering: What would a green graduate look like? This was new territory for Chapman, as it would be for many educators. But when he stopped in a bookstore in Point Reyes, California, and mentioned what he was thinking about, the seller handed him a book and said: "Why don't you look at this?"
The book was Ecological Literacy: Educating Our Children for a Sustainable World, developed and edited by the Center for Ecoliteracy. As Chapman read it, he found that one essay in particular — "Speaking Nature's Language: Principles for Sustainability," by Fritjof Capra, cofounder of the Center for Ecoliteracy and systems thinker — provided a framework that was crystal clear.
In this essay, Capra explains that in order to design sustainable societies, we must first embrace a new way of seeing the world that, in many ways, runs counter to traditional Western science and education. This way of thinking, known as systems thinking, emphasizes the qualities of relationships, connectedness, and context — in any system, whether an ecosystem or a school system.
Once these perceptual shifts are made, Capra explains, one can then begin to study sustainability in the language of nature — through eight particularly important concepts that describe the patterns and processes by which nature sustains life: networks, nested systems, interdependence, diversity, cycles, flows, development, and dynamic balance.
"These concepts, the starting point for designing sustainable communities, may be called principles of ecology, principles of sustainability, principles of community, or even the basic facts of life," writes Capra. "We need curricula that teach our children these fundamental facts of life."
With Capra's essay in hand, Chapman and Land met with the school's 20 department heads and proposed that the Center for Ecoliteracy's principles be applied throughout the K–12 curriculum. Normally, the approval of curriculum changes take about a year. In this case, the committee approved the application of these principles at that first meeting.
To turn those principles into practice, Head-Royce turned directly to the Center for Ecoliteracy in nearby Berkeley, and invited Capra and cofounder-executive director Zenobia Barlow to address the faculty.
"Having the Center for Ecoliteracy come in provided a breath of fresh air, a bigger world perspective," says Land. "This wasn't just about Head-Royce anymore, and we weren't in it alone. It added legitimacy to why we were doing this and showed that it was not just a fad, but a real grassroots movement."
The next step was to conduct a curriculum audit and develop relevant learning activities. For this, the Center for Ecoliteracy sent in Carolie Sly, former director of education programs. A former public school teacher, university professor, and coauthor of the award-winning California State Environmental Education Guide, Sly takes a collegial approach to working with schools. She began by reviewing Head-Royce's curriculum maps to identify positive starting points — areas where teachers were already teaching concepts related to sustainability, and where there was the potential for principles to be easily integrated with lessons already being taught.
"Carolie pulled out from every grade level examples of where sustainability education was already happening; for instance, she showed where we already had lessons in nested systems [the concept that systems are contained within other systems throughout nature]," says Land. "This made it seem like it didn't all have to be such a big deal. No teacher felt that he or she had to go back and trash their American lit course and make it all about Thoreau." To the contrary, Sly emphasized that schooling for sustainability is an opportunity to look at existing subjects through another lens, and that there are numerous ways to incorporate the principles of ecology or sustainability into all subjects.
After this, three things happened: First, Land asked teachers to conduct their own curriculum audits, since they are often aware of concepts being taught that might not appear on formal curriculum maps.
"Next, we identified easy access points where we could tweak the curriculum as the train was moving full speed ahead, so to speak," says Sly. During a unit in first grade science on sandy and rocky shores, for example, teachers added a model beach and caused an oil spill. "The students could see with their own eyes what happens to the oil and how difficult it is to clean up," says science teacher Debra Harper. "We then brainstormed ways they could reduce the amount of oil they use in their own lives." Oil drilling and spills would then make more sense to them, she adds, because they would have had a personal experience with an "accident" themselves.
Finally, each teacher took on the larger goal of identifying three to five ways he or she could further promote sustainability in future lessons, as Sly assisted them in developing new units, modules, and, in some cases, courses. In the process, they proved that sustainability could be integrated — not just in the more obvious subjects, such as science, but also in math, literature, history, ethics, world languages, and art.
In a high school ethics class, for example, Karen Bradley took her students on a field trip to the Davis Street Transfer Station so they could experience what it feels like to be dwarfed by the mountains of trash produced daily in their community. She later shared her own personal commitment to not buy any new clothes for a year, then challenged them with the question: "What would you be willing to give up to make your consumption on par with people in the rest of the world?"
In art classes, students made sculptures out of discarded construction materials and worked on a mural about growing food in a low-income area of East Oakland. And, under the direction of elementary school teacher Nina Nathan, they collected paper from recycling bins all over campus, shredded it, and made pulp. They then produced handcrafted paper, which they turned into a beautiful paper quilt.
In the process, students learned more than how to make paper. Says Nathan: "They learned that you can take pieces that would otherwise be considered junk and make something beautiful out of them — something that makes people happy and lifts their spirits."
As with art and ethics, so throughout the curriculum at every grade level, Head-Royce pioneered its way into schooling for sustainability. And yet, says assistant head and academic dean Land, Head-Royce teachers still see themselves as having only just begun.
"I think we feel as if we now have Fritjof [Capra's] systems thinking in our brains now," says Land. "We see more of the complexity of what we're doing, and we recognize that we've barely just opened the door."
It will probably take three to five more years for Head-Royce to realize their aspirations in schooling about sustainability, she says. And during that time, there will be periods of messiness, challenges, and questions.
"Some say, 'How is this going to work with an AP-driven curriculum? Are we going to lose valuable pieces of knowledge?'" says Land. "I certainly don't think so, but we need to be intentional about how we continue to integrate ecoliteracy with college prep."
Looking back, she says that one of the most striking things about the experience they have had so far is what it says about the things that make big changes possible.
"To me, the biggest lesson we learned is that when people have a personal connection to something, they are much more invested in seeing change happen," she says. "This is not about what I did or what Paul [Chapman] or Al Gore did. This is about something that speaks to people — kids, teachers, parents, builders, maintenance staff — deeply and personally."
June 29 2009
show