Dear friends,
As we reflect on 2022 together, I want to share my gratitude for your support of our organization, and my inaugural year as Executive Director.
The Center for Ecoliteracy's dedication to cultivating education for the sustainability of people and the planet is carried out through three interconnected program areas: School Food Systems Change, Ecological Education, and Policy and Advocacy.
Below, we offer a summary of our major accomplishments from a successful and fulfilling 2022.
With gratitude,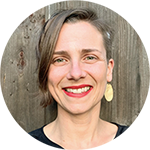 Alexa Norstad
Executive Director
School FOOD Systems change
We build the capacity of public school districts to provide students with fresh, locally-grown food and create connections between the classroom, cafeteria, and garden.
CALIFORNIA FOOD FOR CALIFORNIA KIDS® NETWORK
The California Food for California Kids Network has grown to collectively serve more than one-third of the state's schools, students, and school meals. A network of this scale can catalyze lasting systems change for school meals in California and beyond.
ON THE GROUND
We had the privilege of visiting eight school districts throughout California to experience school meal programs in action and to inform our programming and advocacy. At the state's largest school district, Los Angeles Unified, we held a School Meals for All Celebration that was attended by First Partner Jennifer Siebel Newsom, State Superintendent of Public Instruction Tony Thurmond, and other state leaders.
FRESH FROM CALIFORNIA / TODO FRESCO CALIFORNIA
California schools that source from local farms are more resilient to supply chain disruptions. We facilitated eleven farmer visits to schools, reaching over 1,000 students with local fruits and vegetables, and provided promotional materials and menu planning assistance to over 100 school districts. We produced two bilingual videos that highlight youth leadership in the farm to school movement and connections with local farmers.
SCHOOL FOOD INNOVATOR SERIES
Our School Food Innovator Series provides virtual convenings for school nutrition leaders. This year's events focused on increasing local procurement, advancing farm to school programs, and sharing lessons from the field to strengthen school meal programs.
VIRGINIA FOOD FOR VIRGINIA KIDS
In Virginia, we provided technical support and advised on the pilot of Virginia Food for Virginia Kids, a program out of their state department of education's Nutrition Services Department that follows our successful model in California.
ECOLOGICAL Education
We empower educators to provide transformational student experiences on the food system and sustainability.
GATHER VIEWING GUIDE
We were honored to author the Gather Viewing Guide for the award-winning documentary film Gather from director Sanjay Rawal. Developed in consultation with Indigenous advisors, this resource is freely available to schools everywhere. It offers learning opportunities linked to the film's exploration of Indigenous history, food sovereignty, identity, and healing.
CLIMATE CHANGE AND ENVIRONMENTAL JUSTICE CURRICULUM
As one of seven national partners selected to author units for a statewide curriculum, the Center for Ecoliteracy will contribute a sixth-grade unit on climate change and the food system. The full K–12 curriculum will be complete and freely available to school districts in 2024.
RETHINKING FARM TO SCHOOL
There is no single blueprint for transforming school food—every school district is unique. We've developed the Rethinking Farm to School Toolkit to train state-funded educators who support farm to school programs in California's low-income schools. The toolkit will be launched with three workshops in 2023 and will be paired with promotional stickers, flyers, posters, and social media graphics in four languages for schools to share the benefits of healthy eating.
Policy and advocacy
We advance policy solutions, steward successful implementation at schools, and advocate for systems that cultivate sustainable school communities.
$2 BILLION IN STATE FUNDING
As California prepared to implement School Meals for All, the Center for Ecoliteracy sustained an effective policy platform to provide system-wide support for school nutrition programs. In collaboration with the School Meals for All coalition, our advocacy culminated in a state budget with more than $2 billion in funding for increased reimbursements, kitchen infrastructure, staff training, farm to school, evaluation, and workforce development.
SUCCESS WITH SCHOOL MEALS FOR ALL
The Center for Ecoliteracy supported school districts at the inception of School Meals for All by creating a guide for school district administrators, establishing a School Meals for All Task Force, and conducting a School Meals for All survey to inform policy advocacy and resource development.
STUDENT VOICES
We supported Orange County student leader Kristie To to publish an op-ed in the Voice of OC. She wrote, "I applaud California for being the first state to provide every K–12 student in our public schools with free breakfast and lunch."
PARTNERSHIPS
Our dynamic partnerships continue to inspire and fulfill us. Thank you to our partners:
California Association of Food Banks
California Department of Food and Agriculture, Office of Farm to Fork
Community Alliance with Family Farmers
LunchAssist
NextGen California
Nutrition Policy Institute
Office of Kat Taylor
Looking Ahead
There is much to be grateful for in 2022, and we are humbled by the new and renewed opportunities in 2023. Our programming will build upon these successes as we continue to pursue meaningful change in K–12 education and school food systems to provide a more just, sustainable, and equitable experience for our children and the people who nourish them.