2015 Leadership and Innovation Awards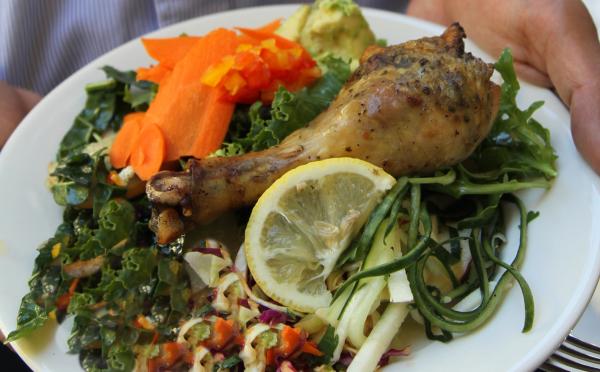 The Center for Ecoliteracy has presented its California Food for California Kids 2015 Leadership Award to Gary Petill, Director of Food and Nutrition Services, and Fred Espinosa, Manager of Acquisition and Production, for the San Diego Unified School District. It has also presented 2015 California Food for California Kids Innovation Awards to five districts from around the state.
The awards, part of the Center's California Food for California Kids initiative, were announced October 8, 2015 at an awards ceremony in San Diego. Deborah Szekely, health and fitness author, educator, and activist served as guest presenter.
The California Food for California Kids initiative provides ideas and inspiration for incorporating fresh, seasonal food in school meals; preserving the environment; promoting local and regional economies and agriculture; and teaching students where their food comes from and how it reaches the table. The awards recognize the leadership, vision, and entrepreneurial spirit of nutrition services directors and districts in furthering this movement.
Several of the awards honored contributions to California Thursdays®, a collaboration between the Center for Ecoliteracy and participating school districts to serve healthy, freshly prepared school meals featuring California-grown foods.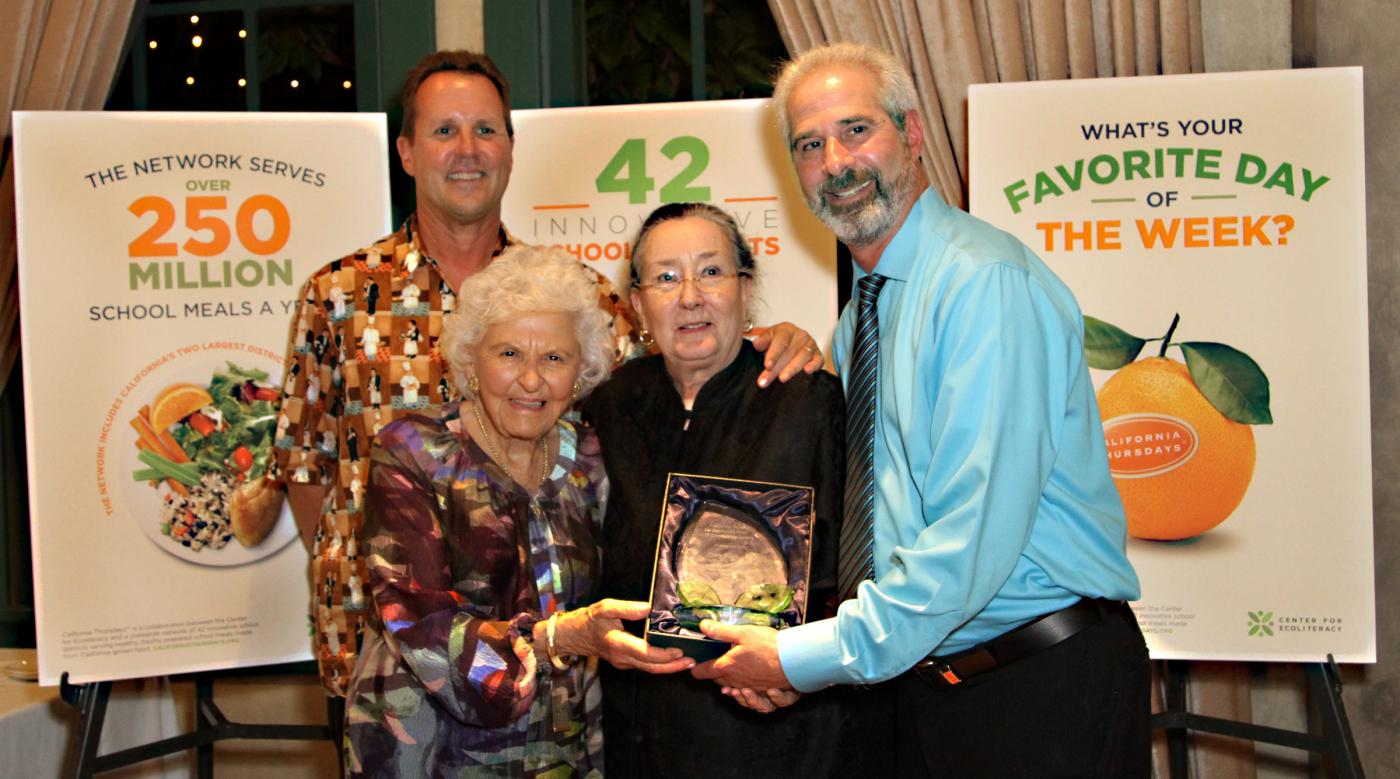 Left to right: Fred Espinosa (San Diego USD); award presenter Deborah Szekely; Zenobia Barlow (Center for Ecoliteracy executive director); Gary Petill (San Diego USD)
CALIFORNIA FOOD FOR CALIFORNIA KIDS 2015 LEADERSHIP AWARD
Gary Petill, Director of Food and Nutrition Services
Fred Espinosa, Manager, Acquisition and Production
San Diego Unified School District
San Diego Unified School District started small with California Thursdays and expanded rapidly, increasing from 18 to 60 sites during the first year and to more than 220 sites by the second year. Petill and Espinosa employed new partnership models to accomplish this rapid expansion. In order to feature chicken that is humanely raised without antibiotics, they created a partnership with California-based and family-owned Mary's Chicken, then worked with the company to coordinate supply chain availability.
SDUSD employs combi ovens to safely prepare fresh chicken, and coordinates with the ovens' manufacturer to develop recipes and manuals. Rather than postpone expansion of California Thursdays until they can install combi ovens in every school, they located a local vendor to cook chicken for schools without the combi ovens while the district continues to upgrade its technology. Petill and Espinosa feel that their vendors are a great source of innovation, and seek to identify those who can help to push the initiative by working with the district on things like product development and distribution.
Gary Petill: "We are committed to teaching kids lifelong eating habits. We want them to understand the importance of California Thursdays for our economy and for making healthier choices. Supporting our local farmers, producers, and ranchers has such a positive impact."
Fred Espinosa: "We definitely believe in California Food for California Kids. We believe in supporting smaller businesses that share values that we share. That's just part of our culture."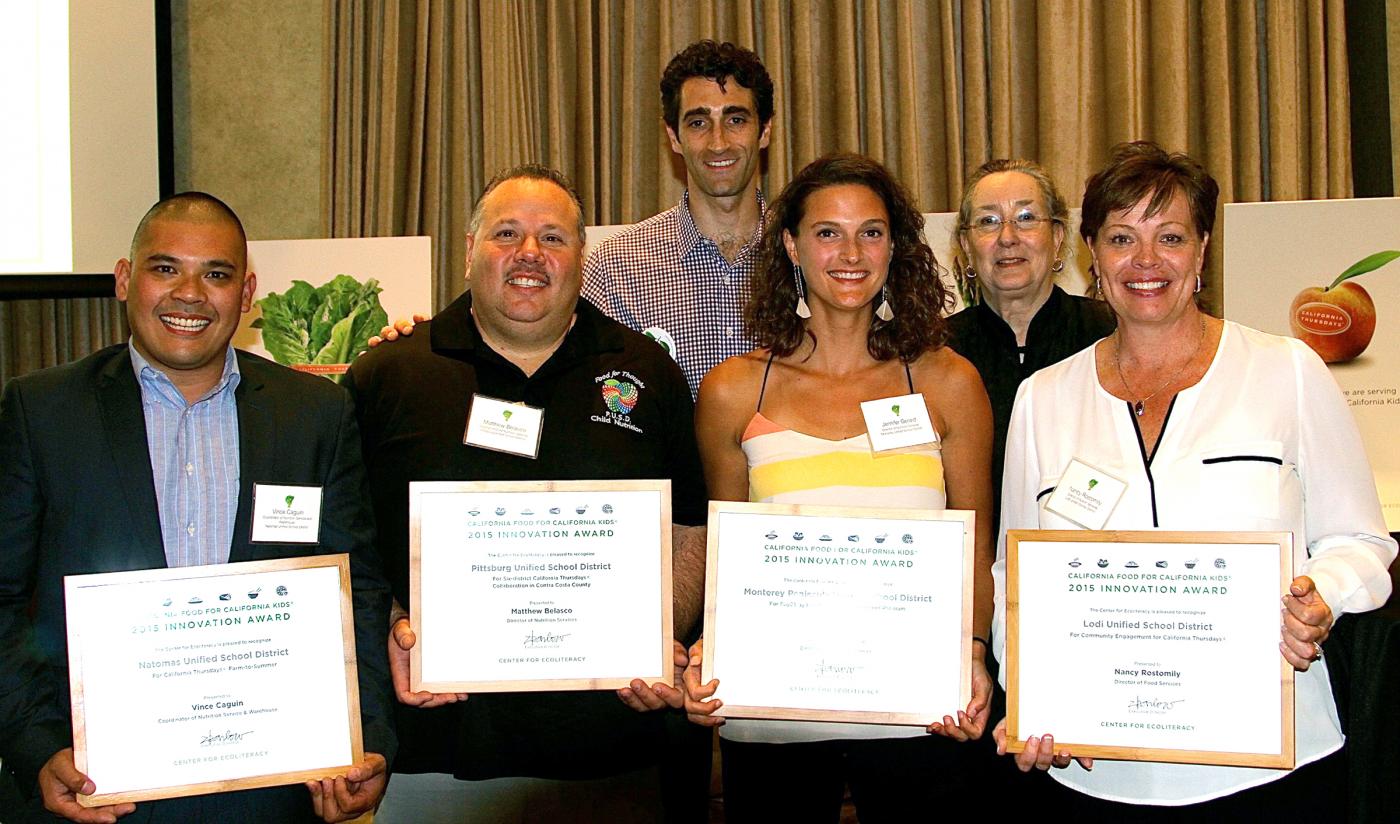 Front row, left to right: Vincent Caguin (Natomas USD); Matthew Belasco (Pittsburg USD); Jennifer Gerard (Monterey Peninsula USD); Nancy Rostomily (Lodi USD). Back row, left to right: Adam Kesselman (California Food for California Kids progam director); Zenobia Barlow (Center for Ecoliteracy executive director). Not pictured: Harold Sullins (Hemet USD).
CALIFORNIA FOOD FOR CALIFORNIA KIDS 2015 INNOVATION AWARDS
Hemet Unified School District
Presented to Harold Sullins, Nutrition Services Director
Innnovation: Modernizing School Meals for Sophisticated Palates
Recognizing that kids these days have more sophisticated palates, Harold Sullins decided to raise his school district's food game to emulate restaurant food trends. How? By adding menu items such as chicken and waffles made with Mary's Chicken and pulled-pork sandwiches on scratch-made pretzel buns. "When I grew up, school food was the standard fare — comfort classics," Sullins says. "We still do some of those items, but we put a twist on it to modernize the food in order to wow the students a bit more."
By allowing his staff to problem-solve creatively, Sullins opens the door to new and innovative thinking. "Our staff takes a great amount of pride in the work they do," he says. "Even if it takes a little bit more work or is more complicated to execute, when they are able to see the finished product and hear the direct feedback from our students, it really motivates them to keep pushing the envelope and trying new ideas no matter how wacky they may sound initially."
Harold Sullins: "I think California Thursdays is a great opportunity for us to really highlight some of the local products that are available in California. For us it's a steppingstone. It's something that we are looking to emulate not just on Thursdays, but throughout every day of the school week."
Lodi Unified School District
Presented to Nancy Rostomily, Director of Food Services
Innovation: Community Engagement for California Thursdays
Nancy Rostomily has engaged the wider Lodi community in the California Thursdays initiative, getting the word out through a full complement of marketing materials, including truck wraps, wind and lawn signs, press releases, t-shirts, and aprons. She invited the school board, administration, staff, parents, press, and local farmers to a big 2014 California Thursdays kickoff. A dozen California vendors, including General Produce Co., Teasdale Beans, Pacific Coast Producers, County Fair Pickles, Foster Farms, Miller's Hot Dogs, and Corto Olive Oil, helped educate students on their food's provenance.
"California Thursdays is a great way to connect students with their food," Rostomily says. Now students know that the district is serving them real food, and they can put a name or face on their meals' providers. She likes to tell students, "Your food is coming from the farm right here, you may go to school with the family we buy the cucumbers from, and here's how this all connects."
Nancy Rostomily: "Instead of trying to find a new vendor [to support the California Thursdays program], I started with asking, 'What are we already doing that's California sourced that we weren't aware of? We were already purchasing a lot of California product that we didn't even realize. From there, we came up with the idea to do this vendor showcase."
Monterey Peninsula Unified School District
Presented to Jennifer Gerard, Director of Nutrition Services
Innovation: Bay2Tray Local Seafood Procurement Program
Jennifer Gerard, director of nutrition services at Monterey Peninsula Unified School District, noticed something problematic in her district. The students looked out over the Monterey Bay each day, and then went back to the cafeteria for lunch to eat frozen fish sticks from who knows where. "It's a disservice to our community, which is basically founded on fishing in our waterfront," Gerard says.
After this pivotal realization, she introduced the Bay2Tray program, working with local fishers to identify a new protein source: grenadier, a by-catch that is usually discarded. This light and flaky fish made its way into the lunchroom in various forms: fish tacos, a chipotle-fish-and-cilantro-lime rice bowl, and fish & chips with baked potatoes. The students ate it up gleefully. And the change in menu also brought about a change in the students.
Jennifer Gerard: "When we serve higher-quality food, the kids are more respectful in line. I don't know if it's because they feel more respected or if better food demands a certain respect for everything. I had a parent say it's the only day she'll let her kid eat the school lunch, because she trusts what California Thursdays is about."
Natomas Unified School District
Presented to Vince Caguin, Coordinator of Nutrition Service & Warehouse
California Thursdays Farm-to-Summer
One of the supposed perks of working in the education sector is those three-month summer vacations. But that's not the case for the majority of educators, and definitely not the case for Vince Caguin. Instead of kicking back and enjoying the California sunshine, Caguin went to work bringing the California Thursdays initiative to the Natomas Unified School District's summer meals program.
Summer is the peak season for farmers, Caguin explains. Farmers often call him asking if he can use their bounty of California peaches or apricots. He also sees the summer meals program as a tool to get the students and their families into community centers and libraries. The program is popular with parents, too; they often thank him for serving summer meals because the program has transformed their grocery shopping lists. "The kids are wanting to eat vegetables, taco salad, and parfaits at home," he says.
Vince Caguin: "I didn't have this mentality when we first started summer meals three years ago. I thought, 'Who would eat school meals during summertime?' My answer now is, '2,000 kids.' The culture that we build within the California Thursdays program is something I can take to my staff and say 'Hey, we're part of this big picture.' When other districts like Monterey Peninsula, Riverside, and Pittsburg get media coverage from California Thursdays, I share it with my staff and tell them that we're part of this progress."
Pittsburg Unified School District
Presented to Matthew Belasco, Director of Nutrition Services
Innovation: Six-district California Thursdays Collaboration in Contra Costa County
A shared desire to serve better, locally sourced food was Matthew Belasco's primary motivation for encouraging participation in a six-district collaborative within West Contra Costa County. With it came increased purchasing leverage, allowing districts a wider choice of farms and local producers. "If I want to buy oranges, I'm going to buy a 100 cases. The farmer might say that's great, but that's a low number," Belasco explains. "But if we say we'd like to buy 1,000 cases, that's really going to pique a farmer's interest and they are going to be more apt to work with us."
Belasco says the collaborative has allowed the districts to purchase from more than three times as many producers as they could before. Supporting local families and the local economy is also important for Belasco. And that has environmental benefits as well.
Matthew Belasco: "One of the things that really drove me was to be an innovative county so other districts can see that [this kind of collaboration] is indeed possible. And although it takes work, anything is possible — especially when you work together. We have a smaller carbon footprint because we're not driving trucks across the country to bring the same food that we can produce here. There are just so many carryovers that happen because we are purchasing locally and really focusing our energies and commitments here in California."
October 16 2015
show