Announcing the 2019 Leadership and Innovation Awards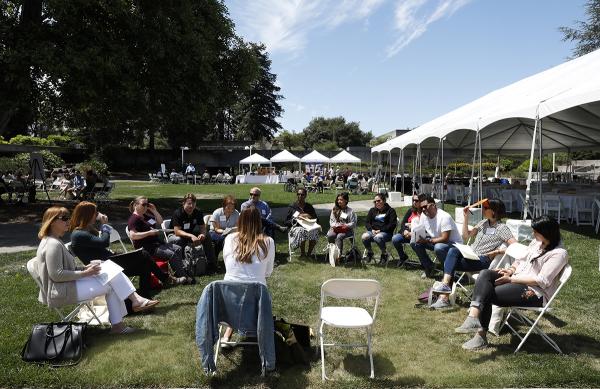 During a two-day statewide conference hosted by Center for Ecoliteracy, six awards were given to honor this year's outstanding leaders and innovations in the school food system. The awards, part of the Center's California Food for California Kids® initiative, were presented by California State Senator Nancy Skinner on June 28, 2019, at the Oakland Museum of California.
Karen Ross, State Secretary of the Department of Food and Agriculture gave the conference keynote address to an energized group of over 120 participants, including teachers and educators; administrators; and food service professionals from across the state. Secretary Ross's rousing proclamation: Together, we can do this! set the tone for the convening, focused on collaboration, community networks, and collective action — three founding principles upon which the Center for Ecoliteracy's work is based.
The awards — five for innovators and one for leadership — shine a bright light on a suite of simple but powerful ideas at the heart of sustainable education: feed our children healthy meals in school; teach them where their food comes from; and support California farms.
Please join us in congratulating the following individuals, districts, and key partner programs for their impressive and trailblazing work towards improving the health and lives of our children. Together their work represents more thatn 196,000 students and over 30 million meals served just last year. But there is no measure of thanks owed for the countless hours of hard work and dedicated love they bring to children's lives each day.
Keep it up, California!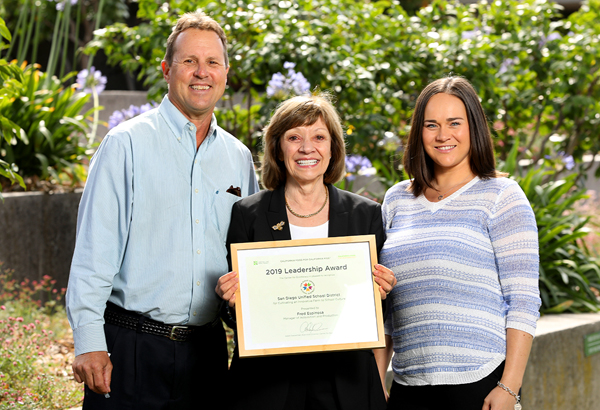 SAN DIEGO UNIFIED SCHOOL DISTRICT
Leadership Award for Innovating Farm to School Culture
Gary Petill, Nutrition Services Director
Fred Espinosa, Manager of Acquisitions and Production
Fred Espinosa, pictured here with teammate Tara McNamara, accepted this year's Leadership Award presented to San Diego Unified School District for innovative Farm to School culture. The second largest district in the state, San Diego Unified has taken a whole-systems design approach to improving school meals. Procurement, food waste, deeper investment in staff, and connecting school garden crops with the cafeteria are just some of the ways their efforts are truly embodying their motto "Healthy Food, Successful Students." As a model district for the most comprehensive adoption of the Center for Ecoliteracy's Rethinking School Lunch Guide, San Diego Unified is leading by example: Sourcing 90% of their produce from California, rescuing more than 437,000 pounds of food waste in the last three years, and carving an important pathway to improving school meals and the planet.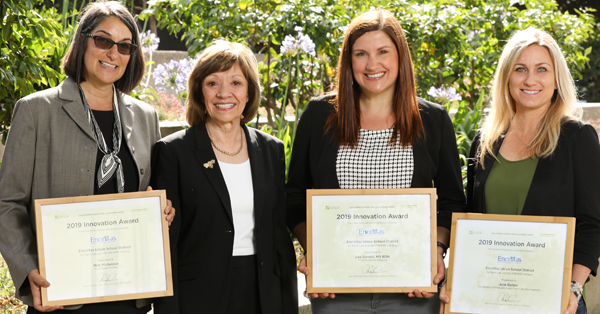 ENCINITAS UNION SCHOOL DISTRICT
Farm Lab and the DREAMS Campus
Mim Michelove, Founding Director of Farm Lab
Julie Burton, Coordinator of Innovation and Farm Lab Development
Lea Bonelli, MS, RDN, Child Nutrition Director
Through the creation of Farm Lab's DREAMS (Design, Research, Engineering, Art, Math, and Science) Campus, a 10-acre farm where kids are able to learn outside of the classroom in an immersive setting, and in partnership with The Ecology Center in San Juan Capistrano, the Encinitas Union School District brings an innovative model demonstrating the power of collaboration. Through place-based learning, design thinking, and research, children discover the impact of food on their health and the environment. With 50% of the land being farmed to provide fresh produce for the school lunch program at all nine schools in the district, they can also boast of having become the first USDA Certified Organic school district in the country. They currently grow 20,275 pounds of produce annually for their school meals.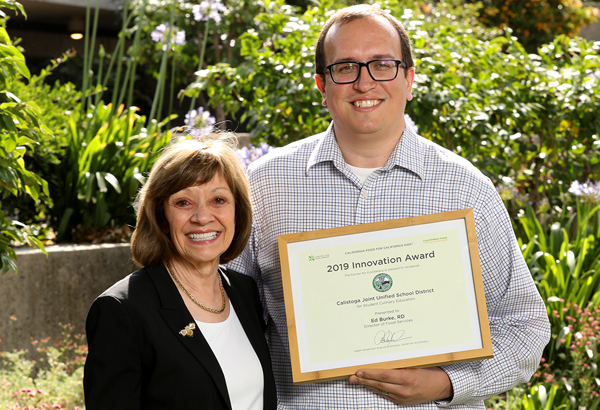 CALISTOGA JOINT UNIFIED SCHOOL DISTRICT
Student Culinary Training
Ed Burke, RD, Director of Food Services
As Director of Food Services, Ed Burke has been a one-of-a-kind innovator for Calistoga Joint Unified School District's student culinary training efforts. Soon after joining the California Food for California Kids Network, his California Thursdays® meal garnered attention from the press on a Collective Action Day, showcasing the importance of what children eat during their school day. Not only is Ed inspired when it comes to meal planning, but he is committed to California-grown ingredients, farm-to-table education through careful sourcing, and the importance of career technical education for high schoolers — many of whom struggle academically, but excel in Ed's kitchen. By building a strong culinary skills training program at the high school level, Ed demonstrated the benefit of supporting students' lifelong knowledge of cooking and career readiness for food-related jobs. Not to mention the lasting life skills gained by caring for others through cooking and food.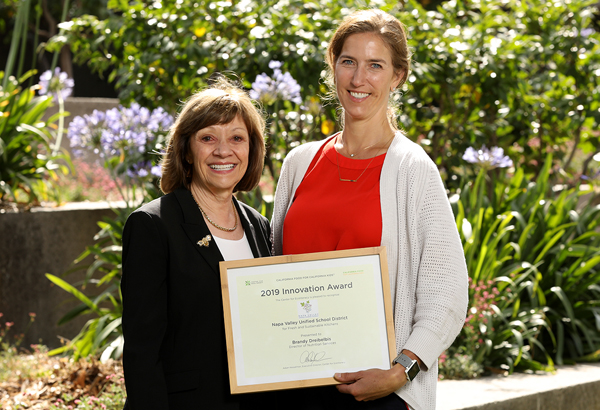 NAPA VALLEY UNIFIED SCHOOL DISTRICT
Fresh and Sustainable Kitchens
Brandy Dreibelbis, Director of Nutrition Services
Napa Valley Unified School District's Amy Glodde accepted on behalf of Brandy Dreibelbis who has been instrumental in helping Napa Valley Unified launch a self-operating food service program, open a new central kitchen, and complete the first of 15 planned finishing kitchens throughout the district. The newly branded NOSH – Napa's Operative for School Food Health — is the first self-operating food service program at Napa Valley Unified in over 32 years. This transition away from an outside food service vendor is the key to healthier and more sustainable solutions for nourishing students in their district. With investments in equipment to enable more scratch cooking, bulk organic milk machinesm and a clean label initiative, the results have had an immediate impact: less waste, better procurement standards, and cost savings that can be put directly back into even more delicious, healthy, and local meals served well into the future. Innovation at its best.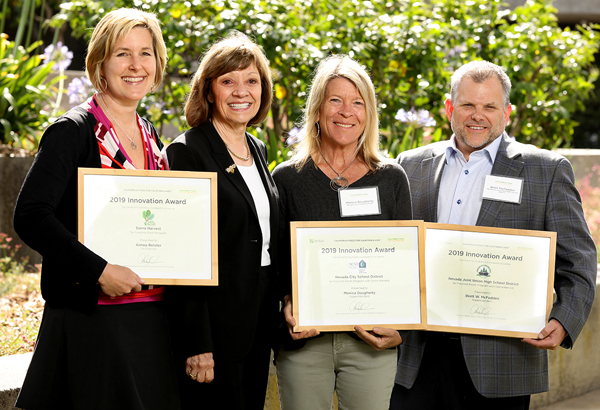 NEVADA CITY SCHOOL DISTRICT AND NEVADA JOINT UNION HIGH SCHOOL DISTRICT
Foothills Fresh Program with Sierra Harvest
Brett McFadden, Superintendent, Nevada Joint Union High School District
Monica Daugherty, Superintendent, Nevada City School District
Aimee Retzler, Co-Director of Sierra Harvest, a Nevada-based nonprofit
When two school districts and a local non-profit joined forces and created an unprecedented regional school food model, people noticed. Their innovative efforts to create change through collective action resulted in Foothills Fresh, a program that has been called a triple win between farmers, kids, and the schools. It utilizes the facilities and talent at Nevada Joint Union High School District to freshly prepare meals for delivery to smallers districts in Nevada County, including Nevada City School District. Supported by stakeholders at every level — administration, parents and school board, students, food service staff — the joint program has twice the number of kids eating the food at school, the schools are buying more California grown foods, and there are new hands-on learning opportunities through farm and culinary education programs. This unique Farm to School collaboration is reaching beyond and benefitting an entire community.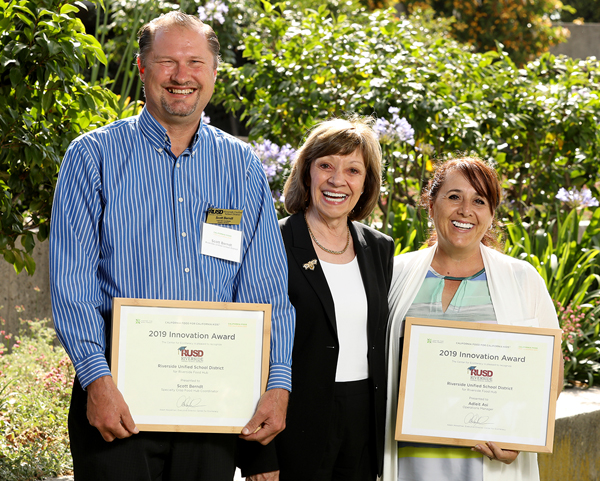 RIVERSIDE UNIFIED SCHOOL DISTRICT
Riverside Food Hub
Adleit Asi, Director, Nutrition Services
Scott Berndt, Specialty Crop Food Hub Coordinator
The Riverside Food Hub is the first produce aggregation and distribution program ever to be run by a school district. Pioneered by Scott Berndt in close partnership with Riverside Unified Schooll District, this multi-sector partnership between public health, school districts, the City, and local institutions is as unique as it is innovative. Leveraging existing resources like the Riverside Unified nutrition services warehouse, cold storage, and delivery trucks, the hub provides important promotion and distribution for a network of local farmers, and provides consumer education that makes the case for purchasing locally-grown foods. Their programming has been awarded grant funds, supports a Farmer Training program, and helps the district continue buying 60% of Riverside-grown produce for its schools. School kids proudly proclaim their meals are, "grown where I grow!" It's an innovative model that helps us all grow – together.
August 9 2019
show