Cultivating Healthy and Sustainable School Communities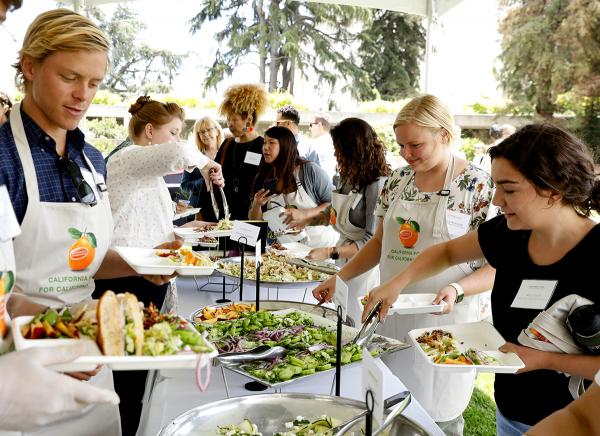 More than 120 people from school districts and allied organizations across California gathered on June 27 and 28 at the Oakland Museum of California to gain inspiration, tools, and connections for Cultivating Healthy and Sustainable School Communities. Remarks from California Secretary of Agriculture Karen Ross, Senator Nancy Skinner, and Kat Taylor, founder of TomKat Ranch, affirmed that the efforts of grassroots teams are gaining attention from key decision makers while noting that there is still work to be done in collaboration with those working to feed and educate children in our public schools. Over 40 practitioners generously shared their expertise via panels, workshops, and innovation exchanges.
In his opening remarks, the Center for Ecoliteracy's Executive Director, Adam Kesselman, addressed the network of public school districts and partners gathered at the conference by emphasizing their influence on the broader Farm to School movement across the country. He celebrated the progress made under the California Food for California Kids® initiative and the trailblazing California Thursdays® program, which is now underway at 30% of all public schools in California. Under the initiative, the Center for Ecoliteracy announced the ambitious goal of serving freshly prepared, California-grown meals every day of the week. Within this broader frame, Kesselman set the tone for the conference to generate collaboration among the range of stakeholders present from school foodservice staff and educators to district administrators and policymakers.
Conference attendees reported feeling more inspired and confident in advancing Farm to School in their communities, bolstered most by the connections they made at the event. The majority of participants identified school administrators as the gatekeepers to expanding their Farm to School programs due to the administration's influence over both budgets and curriculum.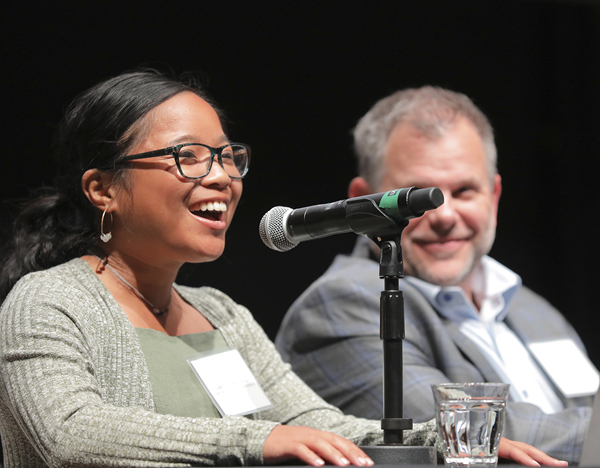 CONFERENCE PRESENTATIONS AND ACTIVITIES
Panel Discussion: A Community of Practice
A panel representing a broad scope of school community partners shared their thoughts on how to break down barriers between the food service, education, and administrative departments within school districts. Remarks from school district administrators in particular put in perspective that school nutrition and sustainability education are among a long list of priorities to which district staff are held accountable. They encouraged advocates working to change school food systems to align their message with the academic, health, and safety goals on administrators' minds and noted the importance of taking the long view of systems change. In physically and emotionally connecting decision makers with food, they foster a commitment to food systems change as a valid pathway to health and wellbeing in their communities.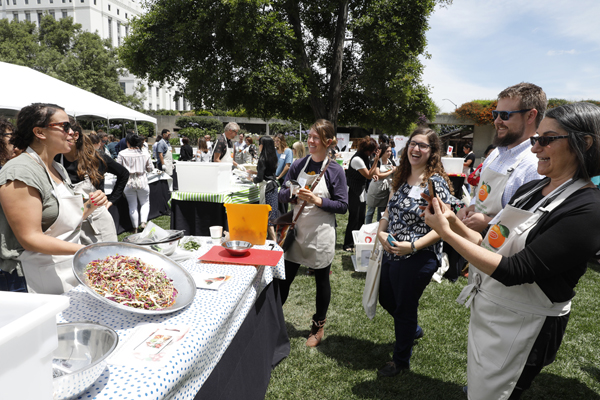 Hands-On Cooking in Teams
For lunch on the first day, participants worked together to prepare five California Thursdays salad recipes. Teams were comprised of school food service leaders, educators, administrators, and community organizations, enabling these often siloed stakeholders to collaborate on preparing, presenting, and marketing California fruits and vegetables with kid-appeal in mind. Teams were encouraged to experiment with culinary skills, plating techniques, and photography strategies that engage students and help to grow their love for the beautiful dishes California Thursdays districts are serving. Playful competition and curiosity ensued as participants compared different preparations and presentations of the same dishes.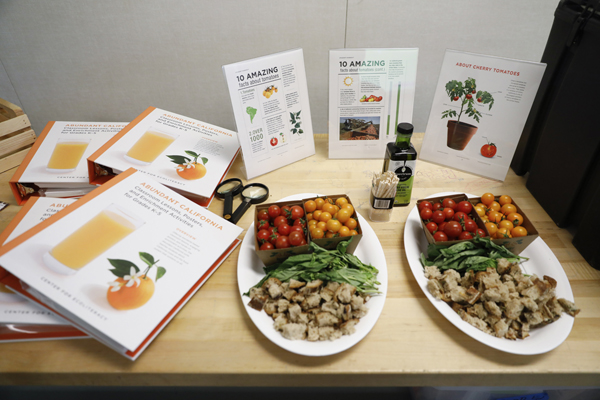 Peer-Led Workshops
Attendees chose from six workshop sessions featuring more than 15 leaders on a range of practical topics for implementing and expanding Farm to School in their communities from innovative procurement strategies to setting up and managing a school garden and more. Workshops featured hands-on skills sharing, case studies, and recommended resources from school districts across California. Sessions explored the perennial challenges and pivotal trends within the Farm to School movement while enabling participants to practice strategies that work and ask questions of those with experience navigating these critical issues.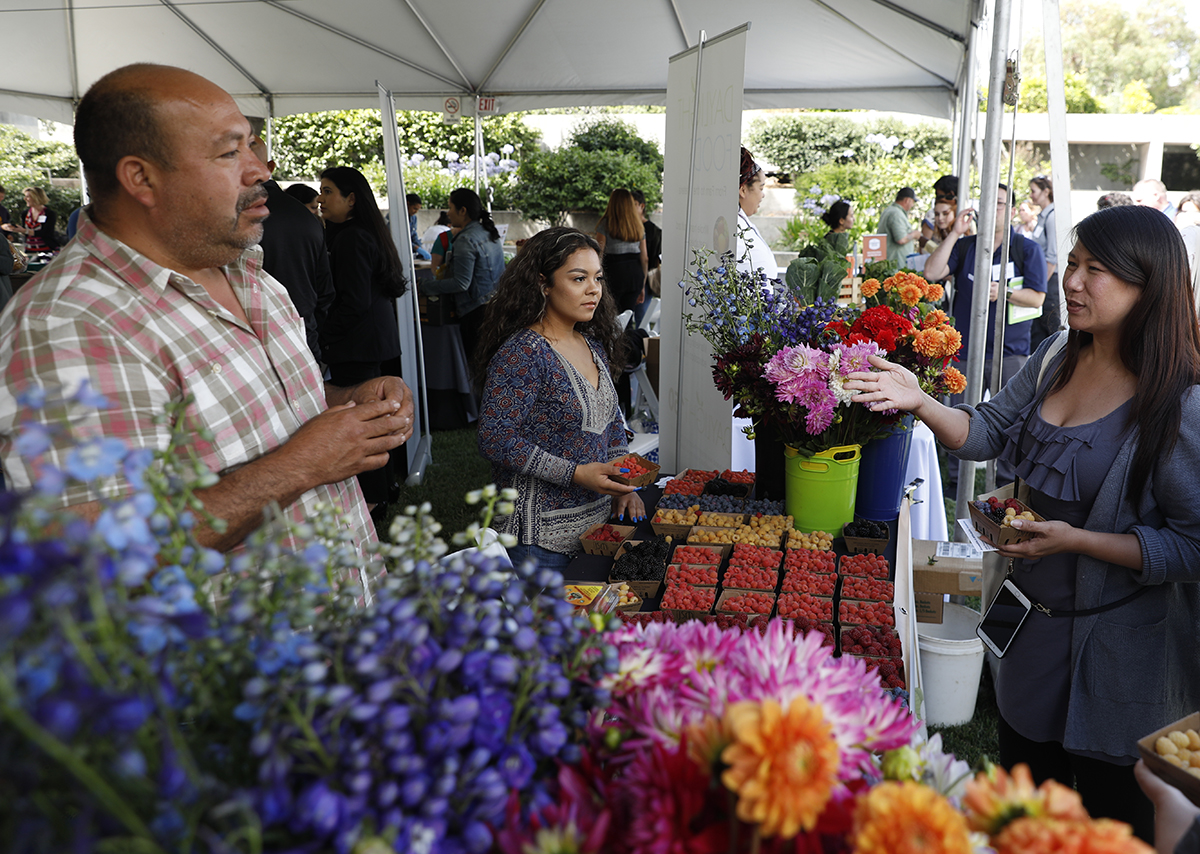 Good Food Showcase
Co-hosted with the Community Alliance with Family Farmers, the Good Food Showcase featured 16 vendors displaying local and sustainable foods for use in school meals. Vendors offered samples of their products and spoke with food service directors and their teams about the potential for increased procurement of these good foods in their schools across the state. During the showcase, four school districts demonstrated their use of California-produced foods in their own meal programs, including plant-to-plate baking with the California Wheat Commission and Calistoga Unified School District; food education activities with local farmers from Fiery Ginger Farms; a colorful taco salad from Sierra Harvest's Tasting Days recipe book; and tacos with LeftCoast GrassFed beef and scratch-made salsa prepared by student chefs from Pacific Elementary School's Food Lab.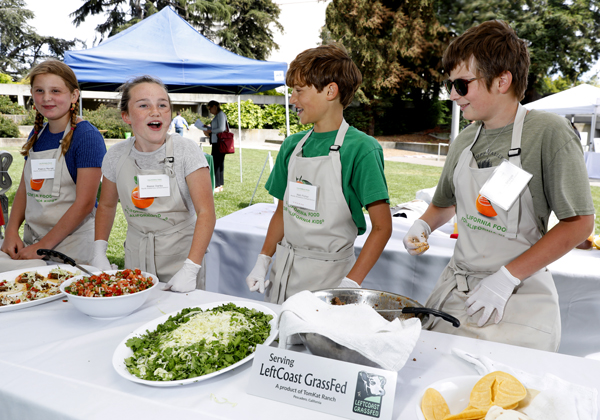 Vendors present at the showcase included Bay Cities Produce, Beef to Institution Ranches (LeftCoast GrassFed, TomKat Ranch, Stemple Creek), Community Grains, Daylight Foods, E&H Farms, Fairyella Ice Pops, Gold Star Foods, HMC Farms, InHarvest, JSM Organics, Le Boulanger, Mandela Partners, Mary's Free Range Chicken, Rue & Forsman Ranch, Silo Technologies, and The FruitGuys.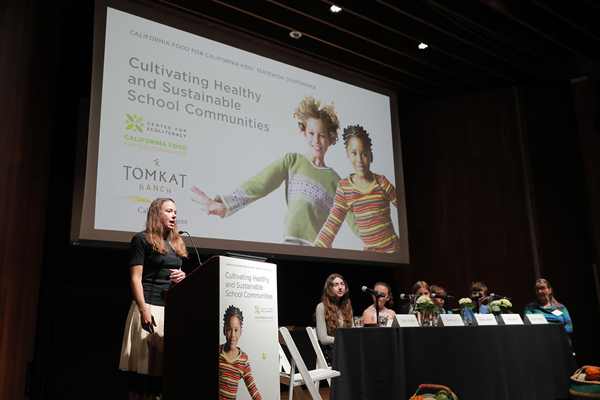 Food Lab and Modeling Student Engagement
Emelia Miguel, Food Service Director and Food Lab Coordinator, presented alongside Stephanie Raugust, Food Lab Founder, and five students and alumni of the Food Lab Program at Pacific Elementary School in Davenport, California. Students shared details of their roles and responsibilities at Food Lab and how the program has impacted their eating habits, their relationships with peers, with family, and with the farmers who produce their food. Students' stories were moving and inspiring and included statements such as, "It was amazing to meet the people who grow our food;" "Sometimes we have sleepovers and make kale salads;" "I appreciate my meals more because I make them myself;" and "When I was in the kitchen with my classmates, I felt like I was with my family."
Panel Discussion: Supporting Farm to School
A panel of experts at the local, state, and national levels shared advice on how to access the resources needed to launch and sustain the successful and inspiring ideas generated at the conference. Kacie O'Brien, USDA's Farm to School Regional Lead, outlined the larger grant opportunities with federal funding slated to increase in the coming years. The importance of technical assistance, social capital, and collaborative brainstorming was also stressed by Nick Anicich from the California Department of Agriculture's Office of Farm to Fork and Prem Durairaj from the Community Health Improvement Partners in San Diego. Acclaimed and visionary school food service director Rodney Taylor reminded everyone that when he started this work 21 years ago, "We didn't even know the questions to ask" grounding the audience with a historical perspective on how far this movement has come and the importance of collaboration to move the work forward. "Set aside your ego," Taylor said, "and ask for help when you need it. It takes partnerships to get this done."
OUR THANKS
California Food for California Kids is generously supported by TomKat Ranch, California Department of Food and Agriculture, Chilean Forests Preservation Fund, Panta Rhea Fund, Sustainable Futures Fund, Tides Foundation, and donors to the Center for Ecoliteracy.
Special thanks to conference sponsorships from Amalgamated Bank, California Wheat Commission, Clif Bar & Company, Gold Star Foods, Mary's Free Range Chickens, The California Endowment, The Humane Society of the United States, University of California Agriculture and Natural Resources (UC ANR), and World Centric®.
August 9 2019
show