A California Thursdays Success Story in Oakland Unified School District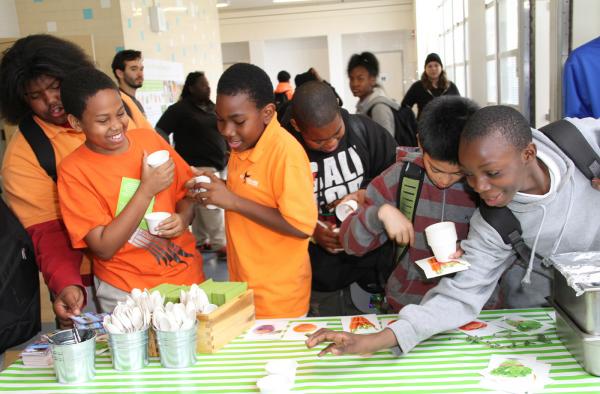 Effecting change in complex systems is never easy, and trying to do it in long-established programs such as school nutrition services can be downright daunting.
Ask Jennifer LeBarre, executive director of nutrition services at Oakland Unified School District (OUSD) how she transformed her district's widely modeled lunch program, and she'll tell you it happened by making small changes first, and then building on them. "You do what you can do when you can do it," says LeBarre. "We look for opportunities and take them."
Achieving LeBarre's goal of offering healthier locally sourced meals to 21,000 students necessitated changes throughout food service operations. According to Adam Kesselman, Rethinking School Lunch program manager at the nonprofit Center for Ecoliteracy, "Serving fresh food at the institutional level requires that many pieces come together in unison — from recipe development and procurement, to staff training and marketing — all ensuring that the new food tastes delicious and that the community knows about these new positive changes."
During the 2010–2011 school year, a team of expert consultants commissioned by the Center for Ecoliteracy conducted a comprehensive Rethinking School Lunch Feasibility Study examining all aspects of district nutrition services. The Oakland board of education unanimously adopted recommendations from the feasibility study as part of its Facilities Master Plan. In 2012, Oakland voters passed a $475 million bond measure (83.65 percent "yes" votes), with $40 million designated for food service facilities, including a central commissary, education center, and 1.5-acre instructional farm. The Center for Ecoliteracy is the lead agency for the design and development of that project.
While a new central kitchen will solve many of the preparation and storage challenges that come with serving freshly prepared meals, it's not expected to be complete until 2017, and OUSD was eager to take advantage of opportunities to increase its local offerings more rapidly.
California Thursdays
One of those opportunities was to partner with the Center for Ecoliteracy to pilot California Thursdays® — an innovative new collaboration between the Center, participating school districts, and allied organizations to serve healthy, freshly prepared school meals made from California-grown food. California Thursdays was created to be a "bite-sized implementation strategy," with a manageable target of offering one meal featuring California food per week.
Dishes prepared fresh from California produce are a big hit at an Earth Day tasting event.
Oakland had already been nurturing a successful farm-to-school program, spending an impressive $3.9 million on local food that found its way into over 6.8 million meals during the 2012–2013 school year. To implement California Thursdays, the district wanted to better grasp the sources of all the food it was serving. What if the milk in a quesadilla came from a California dairy, but the cheese was made in Oregon? What if the fresh tortilla used for that quesadilla was made locally, but from wheat grown in Montana?
With the assistance of Food Corps members working with the district, nutrition services sorted suppliers into defined levels according to where products were grown, harvested, process, prepared, stored, and distributed. The report took a year to produce, but gave Oakland a clear snapshot of the food it was purchasing, a better understanding of just whose local economy would get the economic boost from that purchase, and a basis for setting procurement priorities.
As part of the pilot at OUSD, the Center for Ecoliteracy assisted the district with professional development for nutrition services staff, helped nutrition services connect with local farmers and producers, collaborated on menu planning and recipe development, and produced materials to publicize California Thursdays and "market" the program — building interest and support among students, parents, and district staff members and administrators.
An important aspect of marketing was introducing students to healthy but unfamiliar new entrées such as chorizo and greens over pasta, as well as other dishes featuring bok choy or lemon and oregano. Getting students involved (and invested) in the program included peer-to-peer taste tests and student-led conversations about what students liked about a meal — how it looked or tasted — and whether or not it would land them in the school lunch line to order it. When recipes weren't drawing students in, LeBarre and her staff tweaked them until they worked.
Students are engaged in taste tests at a West Oakland Middle School health fair.
"Things we never thought would fly, like bok choy? It surprised us how popular they were," says LeBarre.
"It was great to see the reaction," says Alexandra Emmott, OUSD farm to school supervisor. "One little kid told the cafeteria manager that he wanted to eat the bok choy meal forever!"
OUSD began the pilot program by offering a California Thursdays menu once a month. Within a few months, the program was so successful that it expanded to once a week. LeBarre says the secret to success is not taking on too much too fast. "A lot of people think if you're going to do farm-to-school food, every single solitary lunch has to be a California Thursdays-style lunch. That's not what we're doing. Take smaller bites of that California apple if you need to."
The results have been worth the effort. Once Oakland's central kitchen is complete, the district will have eliminated an impressive 80 percent of the prepackaged foods it once served. And, as of fall 2014, a total of 14 more districts had joined with the Center for Ecoliteracy and OUSD in a California Thursdays network that is taking the program statewide.
Bella Vista Elementary students celebrate achieving Gold Level in the Healthier US Schools Challenge by preparing salad from their garden with homemade dressing.
October 22 2014
show