What's the Secret to the Success of Turlock Unified's Innovative School Meal Program? Marketing.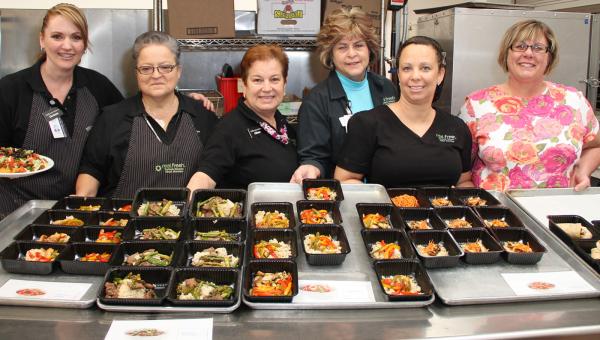 This fall, the 14,000 students in the Turlock, California Unified School District are getting a real, hands-on, delicious lesson on "local" as the district unveils its new California Thursdays™ program.
California Thursdays is a collaboration between the nonprofit Center for Ecoliteracy, participating school districts, and allied organizations to serve healthy, freshly prepared school meals made from California-grown food. Through the program, attention focuses on the link between school lunch and the nearby farms that grow the bounty of fruits and vegetables being served. Turlock Unified's participation is the latest phase in a campaign by child nutrition services director Scott Soiseth to entice kids to crave healthy fruits and vegetables over more alluring but less nutritious choices for lunch.
Soiseth's challenge: to overcome easily accessible fast food and the savvy advertising messages that pelt students three to five times a day, every day. He knew that students held the answer, and began surveying them in order to find a solution.
Student responses weren't a complete surprise. School lunch was suffering from a lingering image problem: "fish sticks with a side of slop." Students reported that school lunch was expensive, and not as tempting as nearby fast food options. But the surveys gave Soiseth something he could work with. The kids made it clear—they wanted meals that were fresh.
He latched on to that single but salient word, and set out to brand school lunch with a clear and effective concept: real.fresh.
Turlock delivery trucks with California Thursdays and real.fresh. messages get the word out to the entire community.
"My goal was to move away from the school lunch stereotype as much as possible. I was tired of recreating our image every year. We needed a brand and a marketing plan that would then drive everything we did," says Soiseth.
The real.fresh brand now leads the way.
With the help of a marketing company, Soiseth and his staff created a logo and a recognizable color palate for the fledgling campaign. They also remodeled serving areas so that all students — whether or not they were receiving reimbursable meals — would be served in the same areas. "It leveled the playing field for everyone," he says. Taking a page from the McDonald's and Taco Bell playbooks, Soiseth made sure that the real.fresh message appeared consistently on everything from cafeteria posters, to uniforms, to menus. Wraps on the food service trucks also spread the message that fresh local food was proudly being served at Turlock schools.
Soiseth knew it was imperative that school meals reflect the real.fresh focus. He wanted new recipes, new ideas, and some assistance to transition from heat-and-serve meals to recipes centered on fresh ingredients. He has attended several of the Center for Ecoliteracy's seminars and workshops and exchanged ideas with Adam Kesselman, the Center's Rethinking School Lunch program manager. In August Soiseth and his staff members met at the Center with their counterparts from other schools in the California Thursdays network to discuss implementation strategies. The Center's work and events and the network of innovative directors have influenced the development of a menu featuring freshly prepared meals made with locally sourced ingredients.
Turlock is featuring fresh California produce in creative and attractive ways.
Today, nearly all of the produce served in the Turlock schools — an impressive 99 percent — is sourced from local California growers. Hot-selling, but less healthy, items like pizza pockets and deep-fried burritos disappeared. Lunch menus now tout garden salads and fresh berries. New make-your-own deli sandwiches with options like crisp lettuce and juicy tomatoes added a level of novelty for the students. Menu plans once loaded with year-round items now incorporate seasonality.
The branding worked. Students have heard Soiseth's message loud and clear, because he had tapped into what the fast food industry already knew: marketing matters. Long-held notions of what school lunch could be began to noticeably shift. Participation increased by an unprecedented 300 percent, and Soiseth's overall budget swelled with it.
The kids have a choice to show up or not. Changing the quality of the food and making it available to everyone has meant they show up every day," says Soiseth. "After rolling out real.fresh, my budget doubled from $2 million to $4 million, and now we're at $6 million in just over eight years, and we're putting it all back into the food."
High school students enjoy made-to-order sandwiches and burritos from Turlock's popular real.fresh meal program.
Karen Brown, creative director for Center for Ecoliteracy, credits much of the success of Turlock's food service to Soiseth's responsiveness to what students were telling him.
Scott really understands outreach," says Brown. "He treated the kids like adults. He doesn't use cheesy slogans or cartoon vegetables. By improving the menu and the dining environment, he increased participation, which means he can continue to bring in more and more quality ingredients."
Increased student participation isn't the only sign that Soiseth's lunch program has made it to the big leagues. Mouthwatering photos of the school's fresh offerings are showing up on Pinterest, a social media site better known for photos snapped at high-end restaurants. "Who would have thought our food would be on Pinterest?" said Soiseth in October. "Two weeks ago I didn't even know how to spell it, and now we're on it."
October 22 2014
show