A School-to-Farm Biking Adventure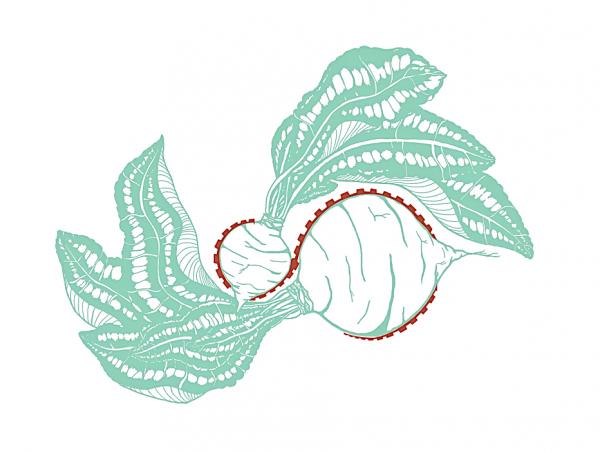 Friends Lake Buckley (Oberlin, 2013) and Caitrin Hall (Vassar, 2013) decided to do something different after graduating from college: Bike from New York to California, visiting farmers — especially women farmers — to explore, in their words, what it means to be active in our world: "We believed that we had a lot to learn from women food producers about how to foster true resilience, live on a finite planet, consume less and share more, foster compassion and courage, and, finally, to wake up and engage with today's daunting realities."
We caught up with Lake and Caitrin by phone as they reached Shasta, California, during Week 11 of their 14-week journey.
CENTER FOR ECOLITERACY: Where did the idea for this trip come from?
LAKE BUCKLEY: We share a passion for food. We're concerned about the industrial food complex and in reshaping the food system in a more positive way. We wanted to combine that passion with physical adventure. Biking across the country and speaking to female farmers seemed like a perfect way for us to increase our awareness of the food system that we're part of and to ask female farmers how we can create a more just system. There's been a huge increase in female farmers over the last decade, and we wanted to explore that growing population and highlight voices that historically have not been heard.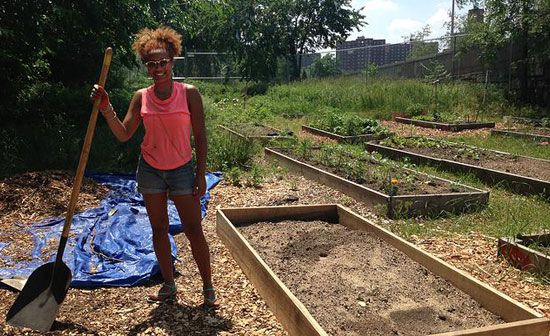 Lake and Caitrin's first vist was with Alexandra Nunez at La Finca del Sur, a woman-run two-acre farm in the Bronx.
CEL: Why bicycling?
CAITRIN HALL: We love that form of movement — relying on the brilliance of bike design and our own gusto to go forward. Carbon-neutral, no fossil fuels, very little harm to the environment. It's compatible with our vision for a nonviolent food system.

LB: We're both interested in experiencing our country on a foot-by-foot basis and wanted to be as close to the land as possible. We wanted to understand it through all our senses, to become more aware of what is happening on the earth and get to know the people working on it.
CEL: Why are food and food justice important to you?
CH: I was raised in a family whose motto was literally, "Food Is Love." But the main impetus came when I was studying abroad. Our program visited seven countries. We saw a lot of things that were bleak and difficult to comprehend, intellectually and emotionally. But despite what we saw in the field, there were spaces of hope. Those tended to be where people were coming together in community and growing their own food, cultivating sovereignty and resilience on a small scale. I wanted to learn more about how that was happening on my home soil.
LB: It's really motivating to discover food as an entryway into so many social, political, and cultural areas. Food connects how we treat the earth and ourselves. I hope that people start to develop a sense of "seeing" that looks at a cornfield with pesticides and herbicides and makes the connection that everyone is implicated in our food system. I find it fascinating and overwhelming and hopeful as well.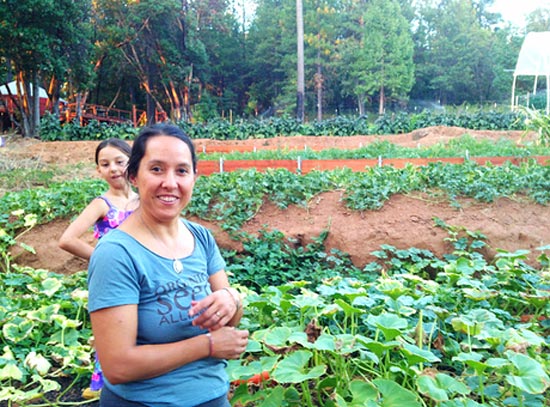 Rowen White at the Sierra Seed Cooperative in North San Juan, California.
CEL: Why did you seek out female farmers in particular?
CH: We began with an open question: Do women offer something unique in thinking about reshaping our food system?
LB: We had also noticed that female farmers in general owned smaller farms with more holistic, biodynamic approaches. We didn't know if that was because historically women have had big barriers to achieving land ownership, or if that was an intentional decision. From what we've observed so far, it definitely seems to be intentional, because it's just so difficult to make farming work. These smaller farms yield more revenue per acre, but the work is more time- and labor-intensive. So, for example, they may own 80 acres but only farm eight to ten acres and set aside the rest for conservation purposes.
CEL: So… do female farmers contribute something "unique" to the movement?
CH: I feel that women are uniquely suited to forming strong relationships and networks. We have a more relational approach to the world—thinking of plants, animals, and ourselves as parts of a system, rather than "us against the world." So that translates ecologically on the farm into a sense of balance or to permacultural concepts: what plants are complementary, how can I best plant them, how can I move my animals and then plant my crops so they're all working together?
Caitrin at the Women in Agriculture Conference at Quiet Creek Farm in Pennsylvania.
The other way that the relational approach manifests itself is in the creation of really strong and necessary "women in agriculture" networks such as the Women, Food, and Agriculture Network in Iowa; the League of Women Farmers in Oregon; and the Pennsylvania Women's Agricultural Network. It's all about taking the social capital of women and magnifying it. There are meetings, workshops, and social support systems in places where, frankly, it's not okay to be an outspoken woman.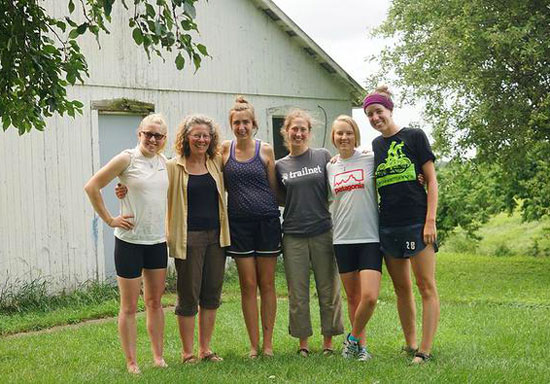 At ZJ Farm in Iowa.
CEL: What can be done to help female farmers succeed?
LB: The networks are crucial. To share with others and realize that hardship is not just an individual problem, but a systemic one is really helpful. For example, the Women, Food, and Agriculture Network is really powerful because about half of the land in their region is owned by females who inherited it from deceased spouses, brothers, etc. Legally they have ownership, but culturally males overpower them. You have uncles coming in and telling everyone in town that they have ownership and getting restraining orders on women who actually own the land. The women tend to be farm wives who have never had an equal say in what is being done to the land. The network asks women what they want, and that's a totally novel experience for them. It turns out that they want family, conservation, and food on their land—not monolithic corn crops. This is a huge opportunity for shifts in our food system. It's hopeful that they can be bullied, but can then find their own power to stand up for themselves and live out their ownership.
CH: It's very important to look at the economic structure in which all of this is unfolding. We have to keep a critical eye on the consolidation of power in the hands of corporations. It's a centralized monopoly of only a few agribusiness, chemical, and construction companies that dictate the way our food is grown, bought, sold, and transported. Addressing the labyrinthine structural questions is mind-boggling, but it's crucial for me.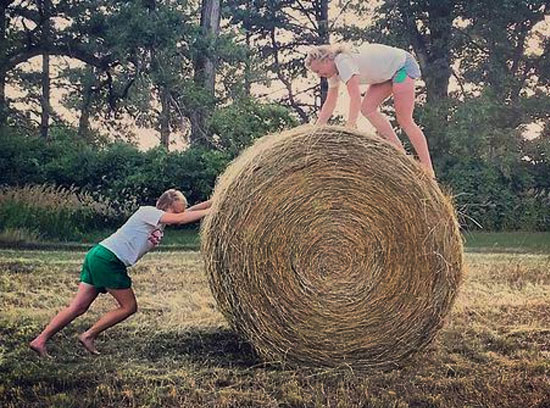 Caitrin and Lake rolling hay in Nebraska.
CEL: What has been your favorite experience so far?
LB: That's way too hard for me to answer! In Rawlins, Wyoming we were walking in the fields with Sarah Smith, and she told us that she had used our website to connect with women in Nebraska. She had plans to move to Nebraska and was very anxious about not having a community there. Our website helped her find a like-minded community of farmers. It meant so much to us that we were able to give back. We hope we can create more links that are most helpful to women in their unique endeavors.
CH: I've really loved the moments when we've gotten to see a group of energetic, engaged women exchanging stories, and the energy is just flying. That happened in Boise, Idaho. One farmer generously hosted a potluck at Earthly Delights Farm and invited other farmers and food activists. We sat together with people fighting the good fight, eating this amazing homegrown food. It was enlightening and invigorating to hear women just telling their stories and learning more about each other. I was vibrating and giddy afterwards.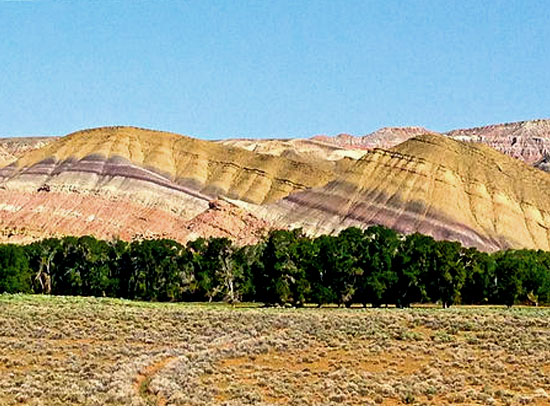 Roadside splendor in Wyoming.
CEL: Did you train for this journey beforehand?
LB: We were more or less training, but in a manner that worked with our regular college life. We like to stay active normally, regardless of whatever adventure we have planned. We were biking and running as usual, but most of the "training" happened on the road. We've been transforming our bodies over the last three months. We can maybe crush up a hill ten times faster, but if you saw us walking, you might wonder what was wrong with us [because of the way we walk]! (laughs)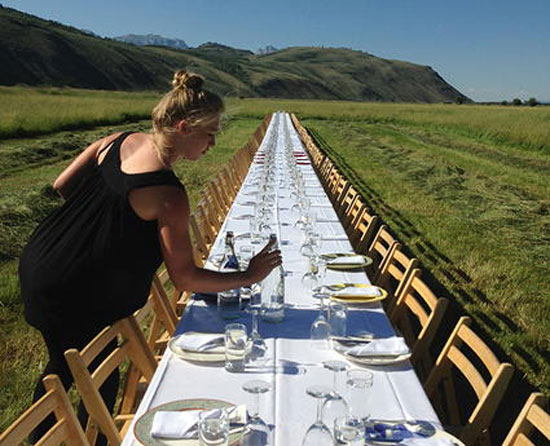 Helping to set the table for Outstanding in the Field, a dinner at Mead Ranch, Wyoming.
CEL: What have you learned that surprised you?
CH: It has become shining clear just how difficult it is to be a small-scale farmer. Growing meat, vegetables, or value-added crops is so physically demanding and economically challenging. You may be lucky enough to have a crew of a few people, but you're usually wearing so many hats, doing it all: growing, distribution, maintaining relationships with farmers markets and restaurants and individual clients, and so on. The layered talents, skills, and intelligences, it's just amazing to me. I have a stronger appreciation of the difficulty, value, and passion of this work.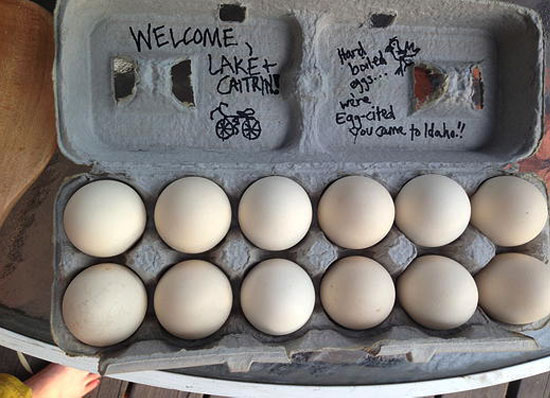 People – and eggs – were friendly in Idaho.
LB: I didn't fully comprehend how every level of our food value chain is built on the giant agribusiness model. Even all the food research is being done for large-scale agriculture. Every single piece—distribution, processing, marketing—is in need of people to come in and reconstruct it. It's not just about having small-scale farms producing the right food in ethical ways. It's also about having sufficient processing facilities, distribution channels, markets, etc. It's about totally recreating the infrastructure. Really seeing and understanding all the minute and yet giant ways that farmers are challenged has been totally illuminating. It breaks my mind open and awe floods in.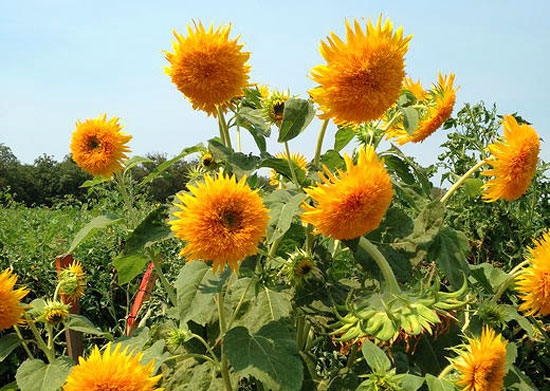 Late summer sunflowers at Towani Farms, Bangor, California.
Learn more about Lake Buckley and Caitrin Hall's Shifting Gears Bike Project at http://www.shifting--gears.com.
September 11 2013
show